A Magical Journey: Creating a Fairy Tale Nursery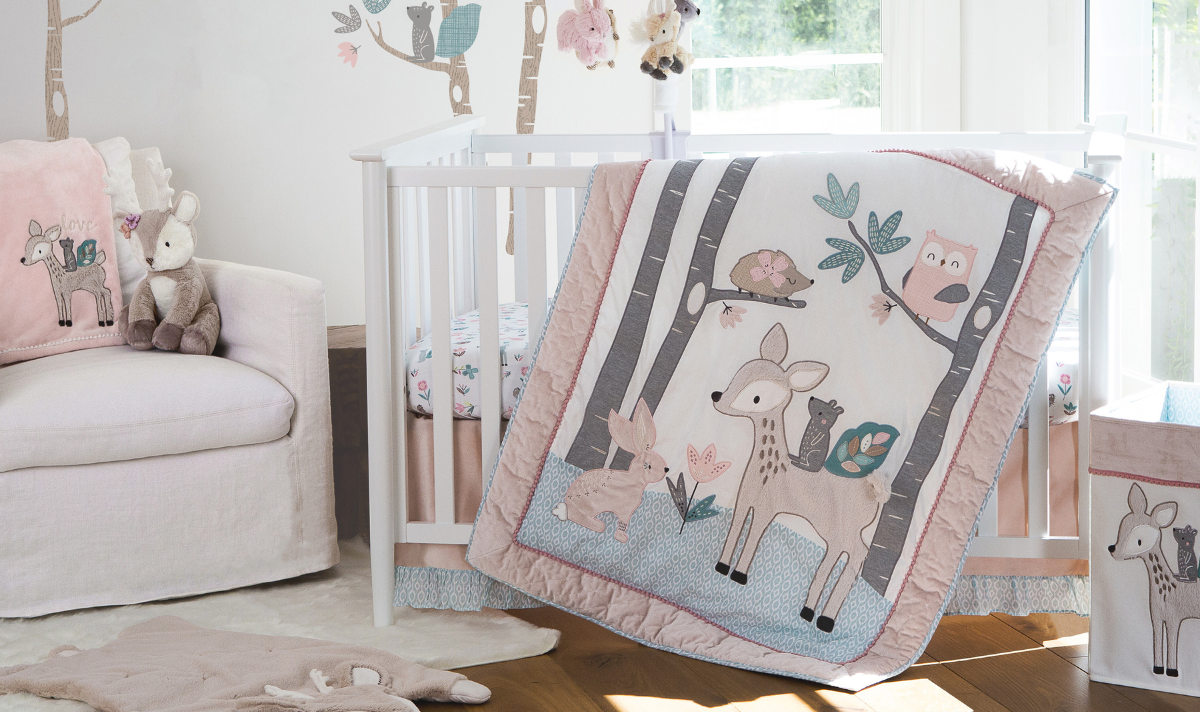 LIFE STARTS WITH A FAIRY TALE
Every child's life begins with a fairy tale – a story of new beginnings, enchanting adventures, and endless wonder. As a seasoned designer and a firm believer in the magic of childhood, I'm thrilled to help you navigate the creation of your baby's very own fairy tale nursery. Let's take a walk through the woods, journey over the rainbow, and dive into the ocean to explore three enchanting nursery themes that will help you create your own fairy tale nursery.
ONCE UPON A TIME IN A WOODLAND REALM: The Enchanted Forest Nursery
Every fairy tale worth its salt has a magical forest. From "Little Red Riding Hood" to "Snow White," the woodland realm is a classic backdrop for enchanting adventures. To create your very own forest-themed baby nursery, start with the Levtex Baby Everly crib bedding set. Its soft pastel colors and charming woodland images are the perfect foundation.
Imagine sweet, soft forest animals adorning the walls, through the delightful wall decals included in your crib bedding set.  Expand on the idea but adding some framed illustrations hung lovingly on the walls. Add a rustic touch with wooden furniture, creating a nursery bedroom that feels like a cozy woodland retreat. Layer different textures with rugs, curtains, and cushions, echoing the multifaceted nature of the forest.
A mobile featuring forest creatures makes a delightful addition over the crib. An ottoman or pouf upholstered in faux fur could simulate a log or a boulder, providing a cozy place to sit during storytime. For the final touch, add some woodland plush toys – think gentle deer, mischievous raccoons and wise owls to complete your enchanted forest nursery.
Your baby's room will soon become a woodland haven for your little adventurer!
OVER THE RAINBOW: The Unicorn Fairy Tale Nursery
Our next stop takes us over the rainbow to a fairy tale filled with magic and wonder. What better mythical, magical creature to build your baby's nursery around than the unicorn?  Long believed to have mystical powers, the unicorn is a symbol of purity and grace.  In the Levtex Baby Colette crib bedding set, this theme envelops the room in soft pastels and whimsical charm.
The baby decor for this theme can be as mystical as you would like. The wall decals included in the crib bedding set help you create a mural of a unicorn prancing under a tree in the starlit sky.   Take the idea a step further by adding a touch of sparkle with star-shaped string lights or a golden lamp or mirror.  Each of these elements can lend a magical touch. A plush rocker or glider in a cozy corner with a faux fur unicorn pillow would be the perfect finishing touch for your little princess's fairy tale nursery.
Delicate, sheer curtains will allow soft light to filter into the room, creating an atmosphere that's as magical as the mythical creature itself. And don't forget plenty of plush unicorn toys, because you can never have too many unicorns in your nursery.
UNDER THE SEA: The Ocean Adventure Nursery
Finally, we plunge into a fairy tale beneath the waves. If you're pregnant with dreams of a sea-sprayed nursery, the Levtex Baby Boho Baby crib bedding set can bring your vision to life. With its playful aquatic theme and soothing colors, it's perfect for an ocean adventure nursery.
To create an under-the-sea atmosphere, consider painting the nursery bedroom in shades of blue and aqua. Wall decals of friendly sea creatures are included with your crib bedding set.  They will immediately turn your nursery into an underwater panorama. Decorate with seashell-shaped pillows, a nautical striped rug, and curtains that ripple like waves. And wouldn't a ship-shaped bookshelf be a fun way to store your child's storybooks?
Look for furniture with a distressed, weathered finish to invoke the feeling of driftwood. Consider a ceiling light fixture that resembles a starfish or a sea urchin. A mobile with various sea creatures, like colorful fish, dolphins, and turtles, will captivate your little one. And finally, a cozy reading nook in the corner with a pile of ocean-themed children's books will set the stage for countless bedtime stories of swashbuckling pirates and mermaid adventures.
Each of these fairy tale nurseries is a labor of love, an expression of your hopes and dreams for your little one. Whichever theme you choose, remember that the most important ingredient in your nursery project is the love and joy with which you infuse every detail. Happy decorating!
FAQ
Q: How to create a fairy tale nursery for a baby?
A: Creating a fairy tale nursery is an exciting adventure. Start by choosing one of the fairy tale themes, such as the Enchanted Forest, Unicorn Fairy Tale, or Ocean Adventure, and select coordinating crib bedding sets and themed wall decals to set the foundation. Enhance the theme with appropriate decor, furniture, textures, and accessories to bring the fairy tale to life in your baby's room.
Q: What are some key elements of Enchanted Forest-themed nursery?
A: To create an Enchanted Forest-themed nursery, begin with a crib bedding set featuring soft pastel colors and woodland images. Use wall decals, framed illustrations, wooden furniture, and various textures like rugs, curtains, and cushions to evoke the multifaceted nature of the forest. Incorporate a mobile with forest creatures, plush toys, and cozy seating for storytime to complete the enchanted forest ambiance.
Q: How to design an Ocean Adventure-themed nursery?
A: To design an Ocean Adventure-themed nursery, start by painting the room in shades of blue and aqua. Utilize wall decals of friendly sea creatures included in your crib bedding set to create an underwater panorama. Decorate with sea-themed pillows, nautical rugs, and wave-like curtains. Look for driftwood-style furniture, ocean-inspired lighting fixtures, mobiles with sea creatures, and a cozy reading nook with ocean-themed children's books to complete the ocean adventure nursery.
Written by Michael Levin