3 Ways to De-Stress Your Bedroom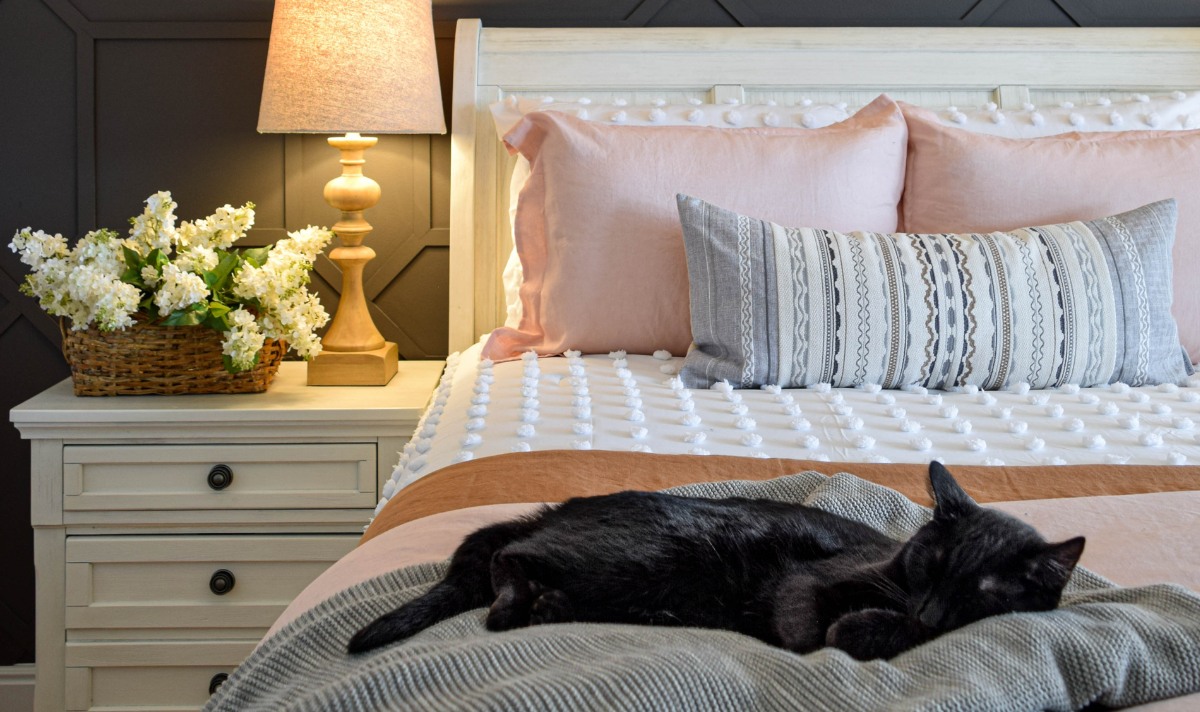 3 Ways to De-Stress Your Bedroom
Whether you spent a long day at work or your kids kept you on your toes all day, we all have one thing in common: the need for rest. I have spent a fair amount of time trying to recharge on the couch or resting in a shady spot outside or on the porch. But nothing beats being able to close a door and enter a bedroom retreat of your own. A place you can escape from kids, pets, work, and just life in general. Maybe your room is the epicenter of all the chaos but I am here to tell you  that it doesn't have to be this way! I have found 3 things that you can do to reclaim your bedroom and bring it back to the sanctuary you are craving.  The experts at Better Homes and Gardens suggest, "After the last dishes are put away and the television is switched off for the night, your bedroom should feel like a retreat from the day's chaos."  Let's start with my favorite.
1. Clear The Clutter
The last place you want to deal with clutter at the end of a long day is in the bedroom. This might be easier said than done.  If you're like me, you are full of good intentions with clearing it all out and then as soon as the clock strikes bedtime, you find yourself with a bed full of everything that got put on the back burner. This clutter might be affecting us more than we realize. "Our surroundings can have a big impact on our moods," says Bay Area organizing expert Holly Blakey of Breathing Room Organization. "They can make us feel calm and peaceful or anxious and stressed.  Your bedroom is particularly important to your mental well-being because it is the first place we see and the last place we see when we go to bed, so it is helpful to make it a space that helps you feel good."
There is no easy way to escape the task besides making decluttering the bedroom a priority. Clearing out closets and drawers and even everything under your bed (especially all the dust bunnies) is a great way to begin the process. Sort your belongings in a different room and only put the things back in your bedroom you really need to be in there.
If you have more items than will fit in your drawers and closet, it is time to make some decisions about your belongings. I love the magic of the pile method. Make three separate piles of:
1. Keep
2. Donate
3. Throw Away
You will love the extra space this creates with the added bonus of knowing where everything is (and in my case, realizing what you have.)
When Blakey meets with her clients to help declutter their bedrooms, the first places she looks is the bedside table. She suggests that if you don't use it daily or weekly, it doesn't need to be by your bedside. For me, I stick to my lamp, and the landline phone. If I am feeling fancy, I will put a framed picture or some flowers, but I try to keep it under 3 items next to the lamp.
2. Be Mindful of Color
I am passionate about what colors I choose to surround myself with. Colors are either stimulating in a good way or a bad way (think the colors in nature vs the colors of a clown). I am inspired by the earth and how masterfully the colors of nature look so beautiful together. Designer Lisa Tornell of Mill Road Studio agrees to use soft, muted and soothing hues in a bedroom. "It only makes sense to use colors found in mother nature."
I've kept the walls and floors neutral in our bedroom so I have the freedom to use a little color elsewhere. This way I can really showcase, for example, a soft pink color for spring and summer if I want. This dark grey on my walls is like a calming thunderstorm complimented by the contrast of the cloudy white bed and the wood floors are like a soothing sandy beach. All of these colors seem to go with everything. Although I feel a lot of layers of pillows and blankets are inviting and cozy, you may feel several colors and layers on the bed are stressful (i.e., my husband) so only put on your bed what you are willing to manage every day.
3. Look at Your Lighting
To be honest, the lighting I enjoy the most is from the sun when I open the shutters. But at night, it is important to include a combination of lighting. "Layered, warm lighting is crucial in a bedroom," says Tornello. "You'll want to incorporate multiple light sources so that you can manipulate the light levels and mood of the room." Although we have overhead lighting, we almost exclusively use the light of the lamps at night.
Making the lamps easily turn on and off is so easy these days with all the smart lighting available. Now we just say, "Hey Google, turn on the bedroom lights," or "Lower the lights 50%." It is a game changer. I also enjoy using bulbs that emit a warmer, more yellow-toned light. Blue-tone cool lighting is better in task-oriented spaces like the kitchen and bathroom, in my opinion.
Take it from me, someone who loves their sleep and cherishes my time to rest and recharge, your bedroom oasis is the last place you want to deal with stress and clutter. Clear out your bedroom and only put the items you need in there. Do not let your room become a dump zone for things you want to take care of later. Reserve your bedroom as retreat from the day's chaos by choosing calm colors inspired by the earth. And finally, open your blinds and curtains by day and have warm-toned and dimmable lighting available by night.
Written by Tammy Groethe