Dorms for my 4 Favorite Celebrities and Characters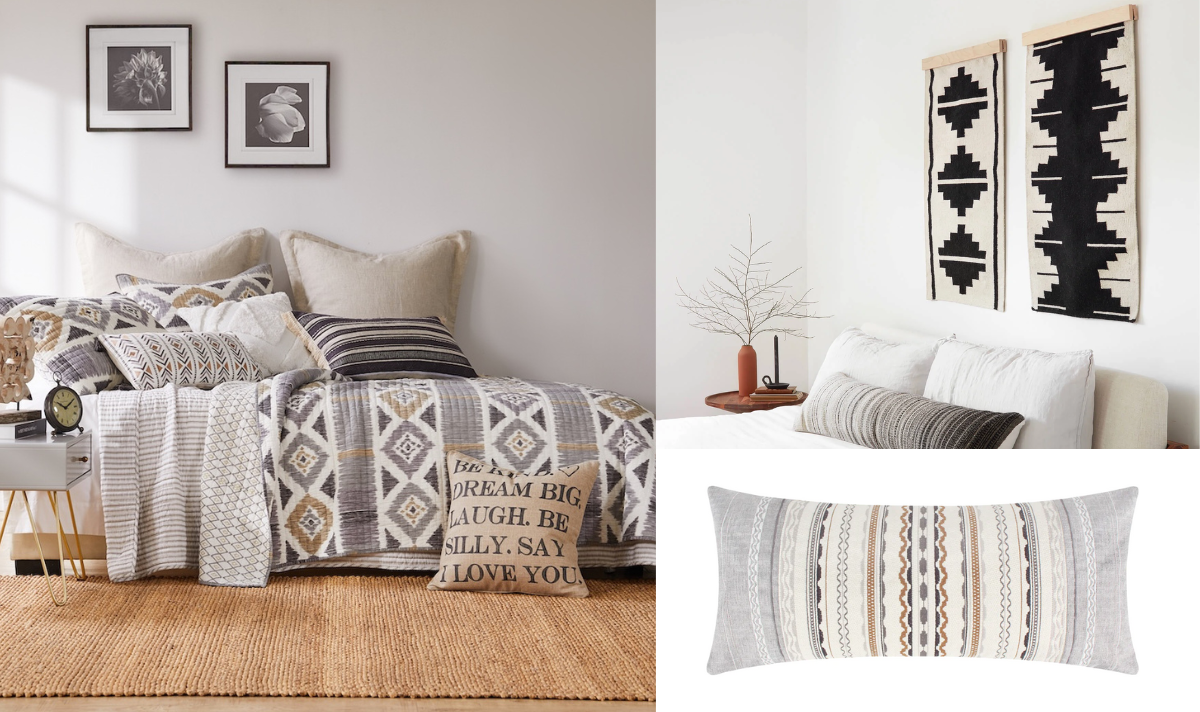 When I was watching the series finale of "Never Have I Ever" this week, I noticed something oddly familiar. It looked like Devi, the main character, was sitting in a bed that I know all too well. Her quilt and mine are both the Jules Quilt from Levtex Home! It's so cool that they put it in a Netflix show. 
In the spirit of this discovery, I thought for today's blog I should make the perfect Levtex Home dorm beds for some of my favorite celebs and characters. I mean, I hear Kim Kardashian is going to law school- and don't they have dorms for first year law students? Anyways, enjoy!
What if Walter White Went Back To School?
Walter White gets really homesick during the Winter. He is from New Mexico where it is hot and sunny all the time. Going to school in the Midwest was a big change for him, but he planned ahead and made his dorm room reminiscent of home. That's why he chose the Santa Fe Quilt Set and paired it with the complete assortment of pillows from the Santa Fe line at Levtex. The colors and patterns remind him of home and keep him warm while studying for his chemistry final. 
Imagining Kim Kardashian's Law School Dorm Room
As mentioned in my intro, I think Kimmy (that's the name I would give her in college because she was so famous when she got there she wanted to reinvent herself) will definitely be needing a dorm room to match her style at home. I think there is only one way to go for her. Kim's home is famous for its extremely minimalistic neutral look. For the bed, I'm thinking linens. It is classy, durable, and clean. That's why I have chosen items from the Levtex Home Washed Linen Duvet Collection.  I have picked a duvet cover in gray paired with the Washed Linen Grey Square Pillows and the Washed Linen Sham in white. 
SZA's Imaginary Dorm Room
We could spend all day arguing about which SZA album is better (it's CTRL), but I think our time would be better spent if I constructed a dorm room for SZA. Maybe this is just the base model dorm room for SZA University. Anyway, for this room, I wanted to incorporate the blues and greens found in the album covers. For this bed, I think the Cross Stitch Quilt Set in sage paired with the Bellamy Teal Round Medallion Pillow, the Wexford Blue Round Pillow and the Lilian Pieced Chenille Pillow is a perfect balance of both album colors. 
Dreaming About Sleeping Beauty, All Grown Up And Off to College
Comfort, comfort, comfort! If I was asleep all the time, I would want my bedroom to be almost dangerously comfortable. That's why I chose the Grandiflora Quilt Set paired with all of the matching pillows as Aurora's dorm bed. There is no such thing as too much pillow for this princess. I think the pattern of the quilt is super fairytale-esque and seems far more comfortable than the futon that she had to sleep on in the movie. With these products, I'm not even sure prince charming could pull you out of bed!
We would love hear about which products you would pick for your favorite movie, television or book characters!  Email me at info@levtexhome.com!!
Written by Quincy Solomon