Boho Nursery Ideas | Ways to Build Your Dream Boho Nursery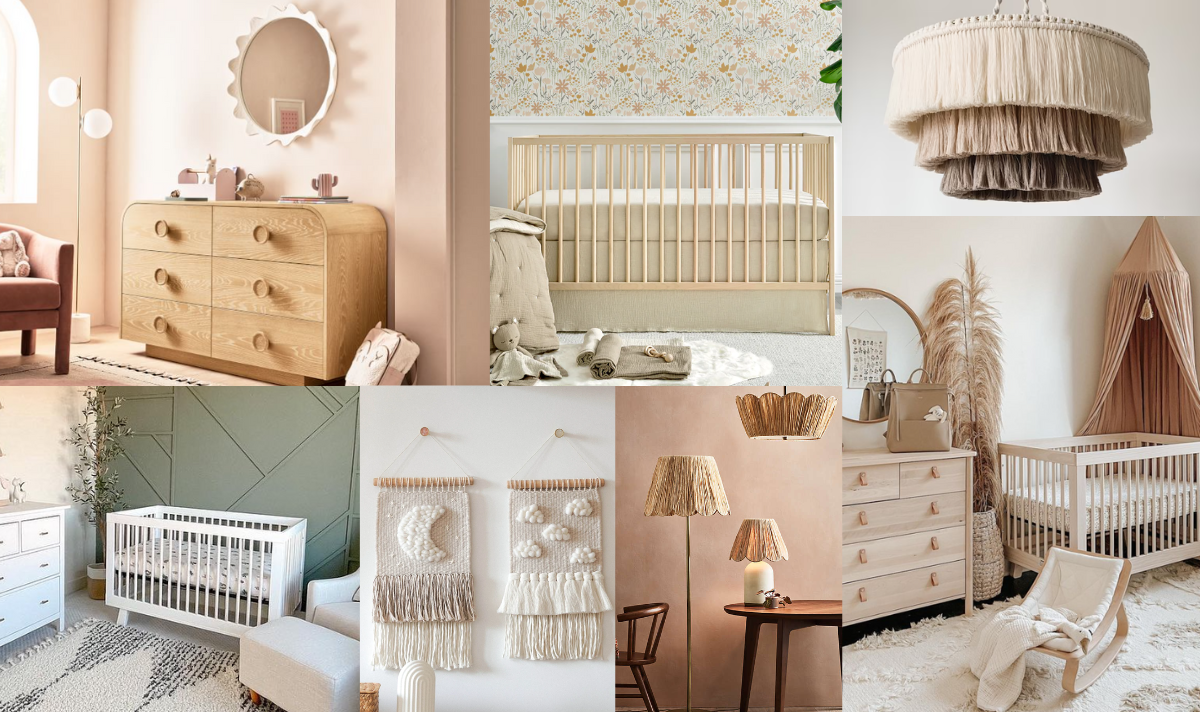 Boho is short for "bohemian" and is a home decor style that combines vintage furniture, vibrant patterns, textures, and natural elements to create an eclectic and warm atmosphere. Boho style celebrates individuality, creativity, and a relaxed attitude, allowing for a unique and carefree aesthetic. Boho style is is the perfect choice to infuse warmth, creativity, and nature into your baby's space. Vibrant and eclectic, the boho style embraces a carefree, artistic, and unconventional approach to design and fashion. It embraces the convergence of many different textures and materials, such as macramé, linen, woven fabrics, and a touch of nature. With its free-spirited charm, natural elements, and vibrant colors, the boho aesthetic offers a delightful blend of bohemian chic and nursery bliss.
In this blog, I will share some of my favorite boho nursery looks and ideas, from nurseries that fully embrace boho chic to those that add bohemian elements to your baby's room.   
Fringe and Tassels
If you are looking for ways to infuse boho elements into a room, think about the addition of tassels, fringe or macrame.  Those small touches instantly give your nursery a boho feel.
For a simpler, cleaner look the Levtex Baby Riley 3 Piece Crib Bedding Set is a great example.  A classic black and white pattern is transformed with the addition of tassels to the bottom of the bedskirt giving the distinctive patterning a boho feel.  You can also dress up your rocker or glider with a feature decorative pillow that gives the room a boho vibe, like the Mills Waffle Textured Tassel Pillow, the Daydreamer Pillow or the Addie Cream Diamond Fringed Pillow.  All of these add a touch of boho to your nursery.
If you want to fully embrace the vibrancy of boho style, you might love the Chantal Rainbow Crewel Tassel Pillow or the Chantal Shine On Round Pillow, both from Levtex Home. Again, the tassel motif with the vibrant colors pack a boho punch. 
If you do embrace the tassel idea, make sure they are on items out of baby's reach and remember decorative pillows are for chairs and sofas, not for including in the crib!
Macramé
Macramé is an amazing crafting technique that involves creating decorative knots using various types of cords or ropes. It is often used to make textiles such as wall hangings, plant hangers, jewelry, and other decorative items. Macramé has a long history and is believed to have originated in ancient times.  It has had resurgences throughout history and is very much associated with the bohemian movement of the 1960s and 1970s.  It is having another moment now.
Macramé is a great way to give your nursery a boho feel.  It is delicate, pretty, and gives any room a youthful feel. I especially love macramé plant hangers.  If you are a DIYer, there are so many blogs, tik toks and YouTube videos that can walk you through creating your own macramé item.  If not, there are so many choices out there and could be a great way to support some local artisans and artists.  
Mix and Match
One of the hallmarks of boho design is mixing and matching color, texture and pattern. It might feel intimidating but it could be the perfect opportunity to pull together a lot of different elements that you love.  It's hard to keep all of the ideas in your head, so I really love creating a mood board that helps me navigate my decor choices.  Just snapping some photos with my phone and grouping the pictures lets me see how my ideas are coming together.  If you love to shop and decorate, this might be a huge amount of fun while allowing you to create a nursery that is unique and quintessentially you.  Here is a mood board I pulled together for a boho nursery using some elements from Levtex Home and some from other stores and artisans.
Remember, while mixing and matching is encouraged in boho style, it's essential to find a balance and maintain a cohesive overall look. Look for common elements, such as color palettes or thematic connections, to tie the different pieces together and create a visually pleasing and harmonious boho room
If this seems to overwhelming for you, we have made it a little easier.  The Levtex Baby Zahara 5 Piece Crib Bedding Set takes the guesswork out of creating a boho nursery.  We have curated the mix of colors, fabrics and textures to give you the perfect foundation from which to build your boho nursery.  We have even given you an array of accessories to choose from to finish out your boho theme.  In addition to the matching items in the Zahara collection, think about incorporating boho elements in the other items in your nursery, like the Levtex Home White Tufted Drape Panel to filter the light and add some privacy to your baby's room.  
Wicker and Wood
Natural materials like wood and wicker are are a great way to keep the room feeling boho.  From large furniture pieces, like the crib itself, a dresser or changing table to your rocker to the pieces that you will need to store everyday items like diapers and toys to your clothes hamper, there are so many opportunities to keep the boho vibe of your nursery.  The warmth of wood and the homemade feel of wicker really lend themselves to a boho room.
Whether you decide to go full boho or just incorporate some elements into your baby's room, the choices are endless.  Rugs, wall art, wall decals, drapes, storage, bookcases and shelves all present an opportunity to add a little special touch to your nursery.  Best of all, its a way to really have fun in preparing this special room for such a special baby.
FAQ
Q: What are some nursery ideas for creating a boho nursery theme
A: When designing a boho-inspired baby nursery, consider incorporating natural elements, mixed textures, textiles, stylish baby bedding, captivating wallpaper, and a cozy rug. These elements are essential for achieving the boho look!
Q: How can you infuse natural textures and materials like baby bedding into a boho-inspired baby nursery?
A: Embracing natural textures in a boho-themed baby nursery can be achieved through various means. For instance, you can incorporate macramé plant hangers with lush green plants, creating a clean and vibrant atmosphere. Additionally, using macramé for artwork can introduce both color and dimension to the room, enhancing its boho aesthetic.
Written by

 

Joanne Levin