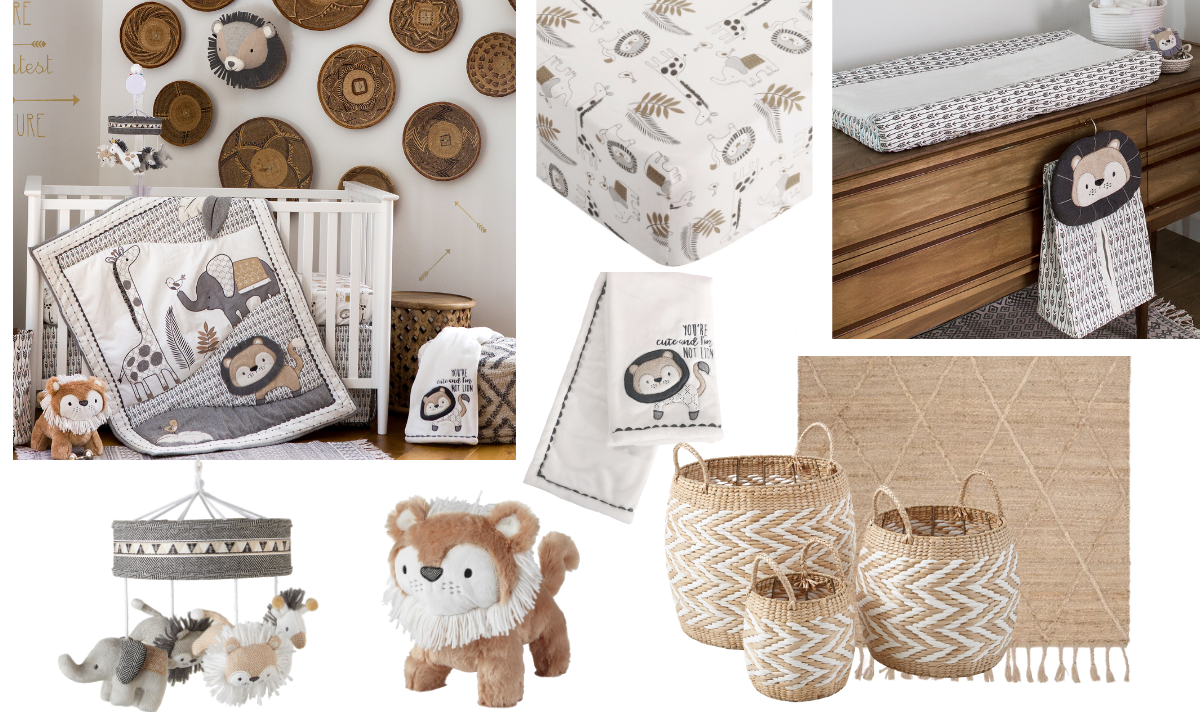 TRENDING NURSERY THEMES 
We design our collections to inspire dreams, nurture comfort, and let your imagination soar. Today we explore some of the trending themes in nursery decor: Woodland, Safari and Ocean. Whether you're a fan of adorable forest critters, exotic African animals or captivating sea creatures, we've got you covered. So, buckle up as we explore these themes that are sure to infuse charm and character into your little one's sanctuary. 
WOODLAND: CREATING A WHIMSICAL ENCHANTED FOREST SPACE
The woodland theme is such a versatile choice for your baby's nursery, there is no surprise that it is so popular. Whether you choose a theme in natural browns and taupes, cool greys and creams or even in soft pinks and aqua, this theme can breathe life into the nursery with its outdoor-inspired elements.
Bailey
The Levtex Baby Bailey crib bedding collection is a great choice if you are drawn to cool greys and creams with a hint of taupe.  Gender neutral, it is also an extremely versatile way to approach your nursery.  Each of the fabrics in this collection has been chosen to maximize the depth and texture of the collection.  From the soft, 100% cotton sheet to the plush faux fur on the appliqued bear, our design team has taken care to ensure that everything has been made to the highest standard of care.
Fiona and Everly
If you are having a little girl and want your woodland theme to be more girl-focused, you might want to choose between the brighter colors of the Fiona Fox crib bedding set or the softer tones of the Everly crib bedding collection.  Each of them features the sweetest woodland creatures in a tranquil forest setting, creating the perfect backdrop for your baby's woodland nursery.
Each of these crib bedding sets comes with a set of wall decals designed to help you create a woodland wonderland for your baby.  We also offer storage pieces, hampers, rugs, drapes, changing pad covers, additional sheets and blankets so that you can extend the woodland feel into every corner of your room.   
We love the idea of adding natural wood furniture to enhance the woodland feel, like a rustic wooden crib or a bookshelf made of reclaimed wood could really create the finishing touch to your nursery. For the walls, opt for a paint color that complements the tones in the bedding and accessories. And finally, include some plush woodland animals — they not only make excellent playmates but also double as charming decor.
SAFARI: NURSERY THEME THAT ROARS WITH ADVENTURE
The safari theme is one of our most searched options for a baby's nursery and for good reason. It is not just cute and adventurous, but it is enormously versatile – appropriate for boys and girls.
Mozambique, Zuma and Zahara
A safari collection takes your baby on a thrilling African adventure. Lions, elephants, and giraffes are featured on our luxurious crib bedding collections, promising to keep your baby entertained. You can choose a safari in cool greys and creams, like the classic Levtex Baby Mozambique crib bedding collection or opt for more warm, natural browns, beiges and taupes as featured in our Zuma nursery collection.  And for those of you that are looking for a nursery with a boho twist, the Zahara crib bedding collection brings warmth and brightness to a baby's room. 
A great way to enhance the look of your nursery is by adding a complementary mobiles, with cute plush lions, giraffes or elephants swirling above your little one. You can also expand your theme by additing rattan or woven baskets, which will give the room a more authentic, safari feel. Try incorporating animal skin art prints or rugs that could give the theme added depth and dimension.  We love the idea of experimenting with deeper, warmer tones that work with your safari theme and help create a warm, cozy environment.
NAUTICAL THEME: A CALMING COASTAL ESCAPE
Blue is not just for boys!  Denim and chambray are such rich, inviting textures and we love incorporating them into a fascinating underwater theme that brings the world of the ocean into your nursery.
Boho Bay
Featuring friendly sea creatures our Boho Bay crib bedding set is the perfect setting for your newborn's aquatic adventure!  Further transform your nursery into a seaside retreat by adding  white or distressed wood furniture for a beachy feel. You could also add some seashells or starfish decor items for an added coastal touch! When choosing a color scheme, shades of blue, aqua and teal work wonderfully for a nautical theme.
There are so many other themes to enjoy and build your nursery around.  Explore some of our other favorite themes, like Florals or Rainbows & Unicorns.  We also love the idea of building your dream nursery around solid or textured bedding, choosing to express your theme through accessories and other decorative touches.
At Levtex Baby, we celebrate the joy of parenthood and the magic of childhood with our wide range of themes. Each collection is designed to bring dreams, comfort, and imagination to life, creating a nursery that is full of joy and wonder. So go ahead and choose the theme that calls to you. After all, your baby's room should be the perfect reflection of your love, dreams, and hopes for your little one.
FAQ
Q: What are some modern nursery themes suitable for a baby's space?
A: Contemporary nursery themes like woodland or jungle-inspired designs blend interior design with fun and modern aesthetics, creating a unique nursery atmosphere.
Q: Can you share gender-neutral nursery theme ideas for a well-balanced nursery design?
A: Gender-neutral nursery themes, such as boho chic or nature-inspired designs, offer a wide range of creative ideas. These versatile themes allow for a playful and modern nursery space suitable for all.
Q: How to integrate trending nursery themes to my nursery design?
A: To achieve a well-designed nursery that embraces trending nursery themes, start by selecting a theme that aligns with your vision. Utilize themed nursery décor elements like bedding and wall art to bring your ideas to life. Consider incorporating of interior design principles like color harmony, visual balance and functional layout for a harmonious and engaging nursery space.
Written by Michael Levin