6 Gender Neutral Nursery Themes & Ideas for Your Baby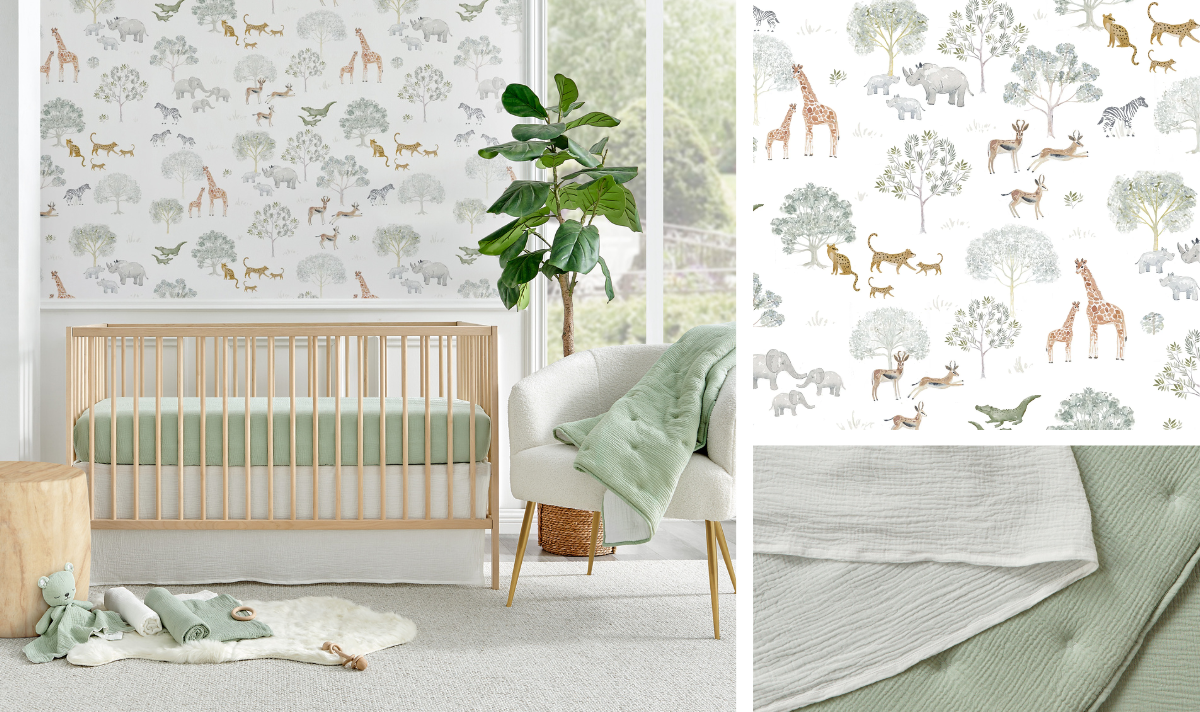 Introduction: Designing a Gender-Neutral Nursery
Designing a nursery is an exciting journey to embark upon, and we are so excited we are here to help! Historically, when people thought of nursery design, they often got stuck in the traditional pink or blue options. As people have begun to think of their nurseries as extensions of their homes, as places they can express their own and celebrate their baby's unique personality, those options have expanded. Many people are choosing to discover their baby's gender at birth or opting to create a room that allows for their child to express their own individuality.  A gender-neutral nursery provides an environment that nurtures self-expression, fosters creativity, and encourages open-mindedness from the very beginning of a child's life - regardless of their gender. This blog will help you navigate some of the various themes, tips, and tricks I have collected to build the perfect gender-neutral nursery. 
Safari Playground Nursery Theme
Safari is a great theme for a gender neutral nursery because of its inherent sense of exploration, adventure, and playfulness. The Zambezi crib bedding set from Levtex is a great option for this theme because it's a way of creating a nursery that is fun and bright and optimistic without regard to gender. The animals will keep your little one engaged and immersed among the wildlife. I especially love the mobile in this set, featuring a fun combination of plush and knit animals rotating, almost chasing each other, as the music plays and keeps your baby engaged and entertained.
Green Nursery Ideas
Green is a trending color - on almost everyone's decorating color choices for 2023.  What we love about green is that it's the perfect gender neutral color. Clean and natural, it is also cozy and inviting. We love the idea of using a rich green paint setting the tone in the room, paired with a simple, classic crib bedding set like the Levtex Baby Skylar White Crib Bedding Set.
I also love the look and feel of the Levtex Cloud Muslin Crib Bedding Set paired with a dramatic green and white woodland wallpaper, a soft warm rug and a large, dramatic plant to complete the classic look of the room.
Stick With What You Love: Creating a Gender-Neutral Nursery That Feels Like Home
Keeping with the flow of the rest of the home is a great way to keep the nursery gender-neutral while still feeling like your home. Who says your baby's room shouldn't be in sync with the mood and feel of the rest of your house?
If you have something like the Levtex Mills Waffle Quilt Set in white in your primary bedroom, you will be excited to know that Levtex Baby is introducing Mills Waffle in nursery bedding.
Celestial Dreams Nursery Theme
Regardless of gender, your baby will love gazing up at the stars. A nursery of dark blues and blacks with stars, moons, and clouds is sure to keep your baby dreaming. I love these sparkly, celestial decals available on Etsy on a dark navy ground.  For extra drama think about painting the ceiling the same color and splurge on adhering the decals to the ceiling to replicate the night sky! 
Let your decor be the star by picking a textured crib bedding set, like the Levtex Baby Navy Cloud Muslin Crib Bedding Set.  Its soft contours create a cloud-like centerpiece to your celestial room.  Have fun picking celestial accessories like those in the mood board below.  We especially love the Over the Rainbow Cloud Deocrative Pillow to add to your nursery rocker or glider.
Gray Harmony Nursery Theme
Gray is an excellent choice for a gender-neutral nursery due to its versatility and ability to create a calming and tranquil atmosphere. I personally love the Willow Grey Crib Bedding Set from Levtex because of its interesting textures and the wonderful patterns in the fitted sheet. It sets the stage for a peaceful and balanced environment and is the perfect foundation around which to build your gender neutral nursery.  We love pairing it with the Night Owl Playmat, the Fancy Forest Fox Shaped Dec Pillow for your rocker or glider, and the Grey Tufted Overlay Drape Panels.
Gray is timeless- it transcends trends and fads. It exudes a sense of sophistication, elegance, and simplicity that can grow with your child. This makes it a practical choice for a nursery, as it can transition seamlessly as your child's tastes and preferences evolve over time.
Woodland Pals Nursery Theme
One of the hottest trends at the moment, woodland animals is a theme that really lends itself to creating a gender neutral nursery.  The Levtex Baby Woodland Pals Crib Bedding Set is a great example. I love the idea of pairing this gorgeous neutral nursery bedding set with natural materials like wood, raffia, and wicker. Add a plant somewhere and a soft pair of drapes to filter the light and keep the room airy!
Remember, the key to a gender-neutral nursery is to focus on inclusive colors, patterns and themes that appeal to a broad range of tastes and interests. Let your creativity flow and customize these ideas to suit your personal style and preferences, creating a special space that nurtures your child's growth and development.
FAQ
What is a gender-neutral nursery?

A gender-neutral nursery is an interior design concept that prioritizes inclusivity and avoids traditional gender stereotypes. These nurseries do not rely on conventional "boy" or "girl" themes or colors but instead embrace neutral and inclusive approaches to room design.

Should you do a gender-neutral nursery?

That decision is entirely up to you! Consider your own values, preferences, and taste when building your baby's nursery. Whether you choose something more traditional or a more gender neutral theme, your child will be in a loving home that respects him or her and fosters growth and exploration. 

Designers often recommend gender-neutral nurseries as they allow for versatile and timeless room design options.
Written by Joanne Levin