Seasonal Bedroom Makeovers | Clever Bedroom Makeover Idea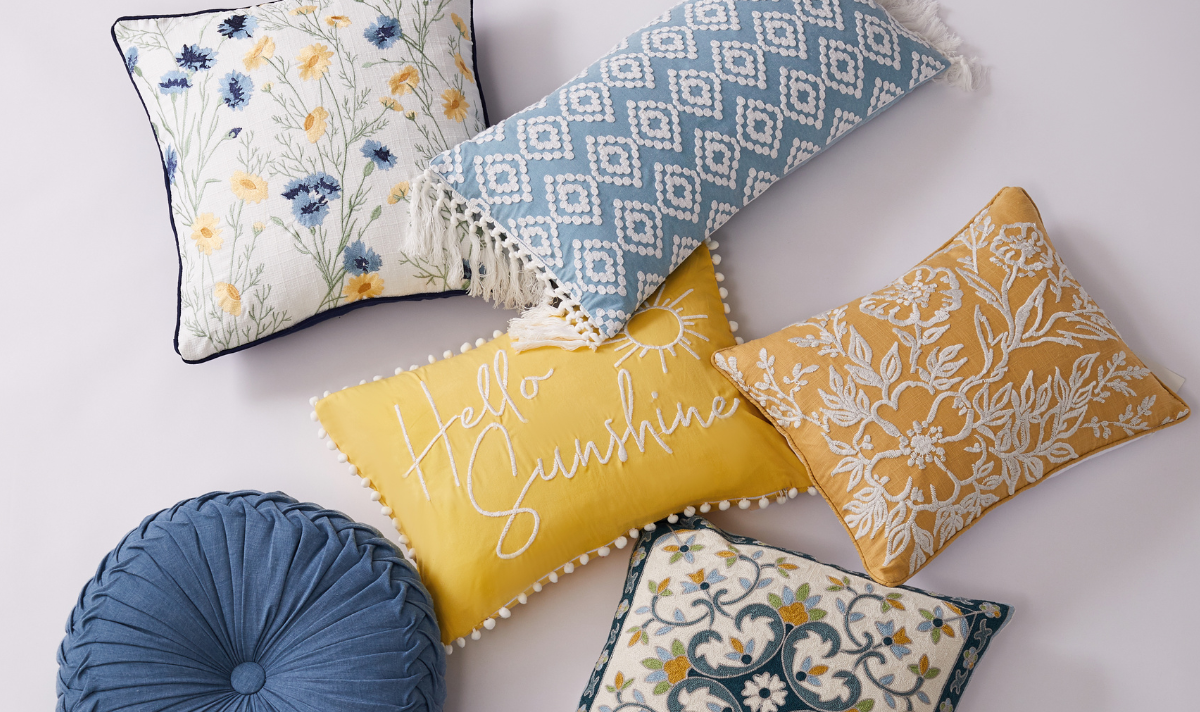 Your bedroom is more than just a place to sleep—it's your sanctuary, your haven, your personal escape from the chaos of the outside world. And what better way to invigorate this sacred space than with seasonal bedroom makeovers and refreshing decor?
I know you are thinking that's just not practical - it's time-consuming and expensive.  But changing your bedroom up each season is a way to breathe new life into your bedroom, a way to create a fresh start.  It does not need to be time-consuming or expensive.  Even small changes can have a huge impact.  I love making these seasonal changes to my bedroom as a way to force myself to do a deep clean, think about what I really need and clear some of the clutter that tends to build up in my life.  I always feel refreshed and energized by the process and love the results.
In this blog I will explore explore the numerous ways in which you can change it up from season to season.  From the most simple changes to the more foundational, here are some tips to create newness in the room you surely spend the most time in.
Spring: Welcoming a Fresh Season into Your Bedroom Space
If there is a season that inspires a new start it is Spring.  Evidence of newness is everywhere - trees start budding, flowers start blooming.  The shift is infectious and really lends itself to refreshing your bedroom.
Brighten your bedroom with floral prints
You already have a pallet in your bedroom - a wall color, a bed, a rug, lamps. Keeping all of those in mind, think about changing up your bedding or adding a layering piece to what you already have.  If your room is a neutral palette like cream or white, think about adding a floral quilt or throw that will immediately make your room feel Spring-y.  Layer in a set of quilted shams and a couple of matching decorative pillows and you have completely transformed your bedroom without much expense.
If adding a quilt or changing your bedding seems too much, just switching out one or two decorative pillows can have a big impact.  There are so many choices that will give your room a Spring vibe.
Utilize Fun Spring Colors
If florals seem too obvious or too feminine, think about layering with a fun Spring color, like one of the many colors available in the Levtex Home Cross Stitch Collection.  So many of the available colors will infuse the brightness and freshness of Spring into your bedroom.
Just a new plant in a pretty pot or a fresh candle scent will give your room a feeling of newness.  I find that its the process that is so valuable - the chance to really look at my room in a fresh way each season and make thoughtful choices about what I have, what I will keep and what I want to change.
Summer: Seasonal Bedroom Makeovers for a Bright and Refreshing Space
For the Summer, I love feeling like my room is an extension of the beach. Bringing in breezy curtains to brighten up the space is a great place to start, and these White Tufted Overlay Drapes from Levtex Home do exactly that. Everything is brighter and sunnier during the Summer, so why shouldn't your room be, too? 
Incorporate the Ocean
On the same beachy-themed makeover idea, I think incorporating elements of the ocean is a great way to add some dimension to your room. The Levtex Home Mahina Quilt and the accompanying shams and pillows are light and bright but still make it feel like you're in the deep sea. The coordinating Levtex Home Mahina Shower Curtains create a way for your to carry that theme into the bathroom.  Depending on your color palette, there are so many options to choose from.  Explore the Levtex Home Coastal selection and see what might work for you.
Summer is also a great time to layer in bedding in shades of blue.  If you are feeling a little more patriotic, a pop of red will help give you those 4th of July vibes. Whether its beauty or not, there are a million ways to add a touch of blue into your room and give your space the fresh Summer feeling you are looking for.
Autumn/Fall: Bedroom Makeover Ideas to Cozy Up Your Space for the Season
The weather is getting cooler and you are starting to feel the need to bundle up.  Fall is the perfect time to add a layer to your bed.  No matter which way you go, the extra layer is going to create a little more warmth and coziness to your bedroom.  Flannel, plaid, and gingham prints are staples for a classic and cozy fall look. I love the Levtex Home Camden Quilt Set because it has a cozy vibe and is just the perfect amount of added warmth to your bed.
Layer Your Bedding
Layering different textures is a great way to transition your room from Summer to Autumn. We particularly love layering in velvet as the cooler months start to approach.  With options from solids to prints, there are countless ways to add texture, color and dimension to your bedroom.  The Levtex Home Abruzzi Velvet Spice Quilt Set is a great addition because it mimics the changing of the falling leaves with its soft spice color and adds a new warm texture to your room.  If the quilt seems too much, think about draping the Abruzzi throw on your bed or over a chair.  If you add to that some ochre or mustard and a little green, in decorative pillows for example, you could really bring the outdoors in with all of those Fall leaf shades.
Winter: Seasonal Bedroom Makeover with Bedding and Decor
The Levtex Cream Velvet Quilt Set is a great base layer for the perfect Winter bedroom. It is cozy and pays homage to a true Winter white The soft velvet offset with a quilted paisley pattern, will keep you warm while setting just the right tone for the season. 
Because you're going to want to stay warm in the Winter, it's a good idea to layer up your bed. Whether it's an additional blanket or throw or a more substantial piece like the amazing Levtex Home Faux Fur Ivory Quilt, nothing says Winter warmth like layers of cozy bedding.  Use the layers to add pops of plaid or warm winter colors, like red, to really bring the your room together. 
Create a Christmas Atmosphere
For those of you for whom Christmas is really special and embodies all of those wonderful childhood memories of warmth and family and togetherness, picking a Christmas themed bedroom might be just what you are looking for.  From the addition of decorative pillows that evoke the spirit, to a layered quilt, throw or blanket, Levtex Home has curated a holiday assortment that covers everything from the most sophisticated to the purely fun. 
I also love setting the mood with candles during the holidays. Some say our sense of smell is the most powerful sense for eliciting memories.  What better way to take you back to those joyous childhood holidays than by filling your room with the scent of pine, cloves and cinnamon. 
Take Stock Before Starting and Set A Budget
As the seasons change, so too can the ambiance and energy of your bedroom. Before you begin, take a look at everything you already own and decide how you will incorporate it into each seasonal look. Things can be reused and given a new purpose for every season.  It's important to set a budget for each season. There are many ways to bring in and welcome each season without spending hundreds of dollars! Remember, it will feel like home because it is home. 
The importance of seasonal bedroom makeovers and refreshing your decor lies in their ability to transform your personal sanctuary into a haven of beauty, tranquility, and inspiration.
FAQ
Q: What are some quick and easy furniture makeovers for a bedroom to refresh its look with the changing seasons?
A: Furniture makeovers are a fantastic way to revitalize the space without breaking the bank. Consider painting an accent piece, like a nightstand or dresser, in a seasonal color. Alternatively, switch out the hardware on the furniture for an instant transformation.
Q: How can you update the wall decor in your bedroom to match the seasons?
A: Wall decor plays a crucial role in seasonal room makeovers. Invest in removable wall decals or artwork that reflects the current season's colors and themes. This allows for easily swapping out decor with each season.
Q: Are there any accents to incorporate into the bedroom's seasonal decor design?
A: Absolutely! Get creative with accents like seasonal throw pillow covers or handmade wall art. Freshen up the space by rearranging existing decor and adding seasonal florals or greenery for a budget-friendly touch.
Written by Michael Levin