Ideas for Amazing Nursery Curtains | Drapes and Blackout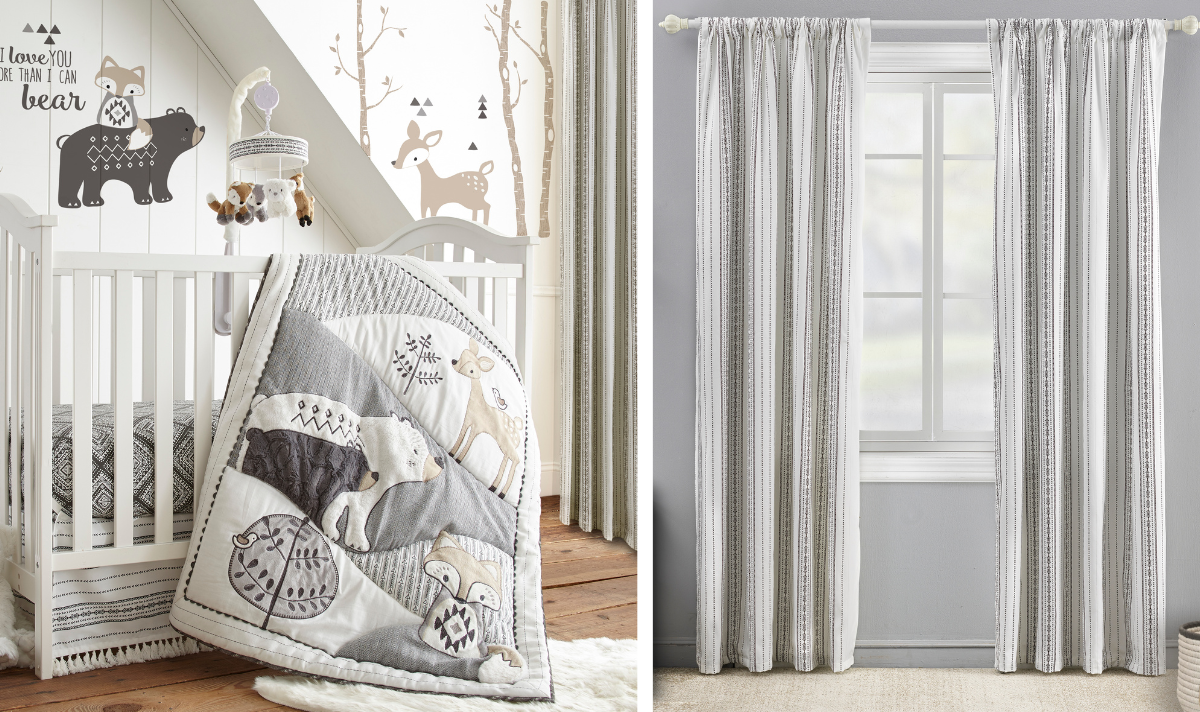 Today I am going to share my favorite curtain and drape ideas for your baby's nursery. Curtains are not only functional but also contribute to the environment and ambiance of the nursery while providing light control and privacy. Explore the best nursery curtains in our round-up guide and find top-quality curtains and drapes that enhance your baby's nursery decor and create a serene atmosphere.
Control the Light
Blackout drapes provide a whole host of benefits. Notably, they have been shown to improve sleep quality. Blackout drapes block out the majority of external light, which creates a dark room that promotes better sleep. By minimizing light intrusion, blackout drapes can help establish a conducive and healthy sleep environment. According to Mayo Clinic Health Systems, minimizing light and sound can "impact your quantity and quality of sleep." Blackout drapes minimize visual distractions by blocking outside stimuli such as streetlights, car headlights, or sunlight. This can create a more serene and calming environment, enhancing the ability to fall asleep and stay asleep.
If darkening your room is not a priority, think about adding a drape or curtain that filters the light.  In addition to providing some privacy (especially if your baby's room is on ground level), a drape that filters light helps create a soft and warm environment for your baby.  I particularly love the Levtex Baby Tufted White Sheer Drape Panels.  They have a dimensional, playful quality in addition being a wonderful. light filter and privacy provider.
I love the idea of choosing both!  A blackout curtain (or blind) to provide the ability to really darken the room for daytime naps or those Summer evenings when the sun goes down way later than your little one does, layered below a sheer panel to soften the room, create privacy and filter the light.
Choose Something Long Lasting
Drapes and curtains can last a long time, so opting for a colorway and material that you feel can accompany your child's transition out of the nursery and into their bedroom is a great idea and definitely cost-effective. I love the look of linen for everyone from baby to adult.  It has a classic, timeless elegance that is soft and inviting in a nursery, works beautifully in a toddler's room, and transitions perfectly through the teenage years and into adulthood. The Washed Linen Drape Panels from Levtex Home come in a variety of colors, so can match any room or go with any theme.  They are beautifully made, durable and sure to last. 
Match the Curtains With the Rest of the Room
There are a few different ways to think about this.  One option is to have your drapes fit directly with your theme.  For example, the Levtex Baby Bailey Drape Panel utilizes the same pattern found in the crib skirt, making it the perfect complement for this nursery.
A second option is to highlight the main color in nursery.  The Levtex Baby Heritage Drape Panels come in a luxurious velvet and are available in multiple colors.  The Heritage Pink drapes, for example, go with a number of different bedding sets - like the Everly woodland collection or the Imani safari collection.  And, if you really want to go for that classic vibe, the velvet drape panels are a perfect match for the Heritage Velvet Crib Bedding Set.
Choosing the right drapes or curtains for a nursery is a thoughtful process that can help enhance both the aesthetics and functionality of the room. I hope you have found some helpful gems in this blog! Remember, every nursery is unique, so take the time to explore options, read reviews, and consult with professionals or fellow parents to make informed decisions that suit your specific needs. Here's to creating a dreamy nursery that will be cherished for years to come!
FAQ
Q: Are nursery curtains or drapes good options for promoting better sleep in a baby's nursery?
A: It all depends on your preference! Many parents have had success using both nursery curtains and drapes in their baby's nursery. Make sure to do your research as to the benefits of blackout shades and potential drawbacks.
Q: What is the difference between nursery curtains and drapes?
A: Amazing question! Technically, nursery curtains go to the bottom of the window, whereas nursery drapes tend to go all the way to the floor or even puddle a bit when they hit the ground. But we have noticed that they get used interchangeably. Either way, they are great options, it just depends on your stylistic preferences and usage.
Written by Joanne Levin