5 Bedding Ideas To Create A Curated Bedroom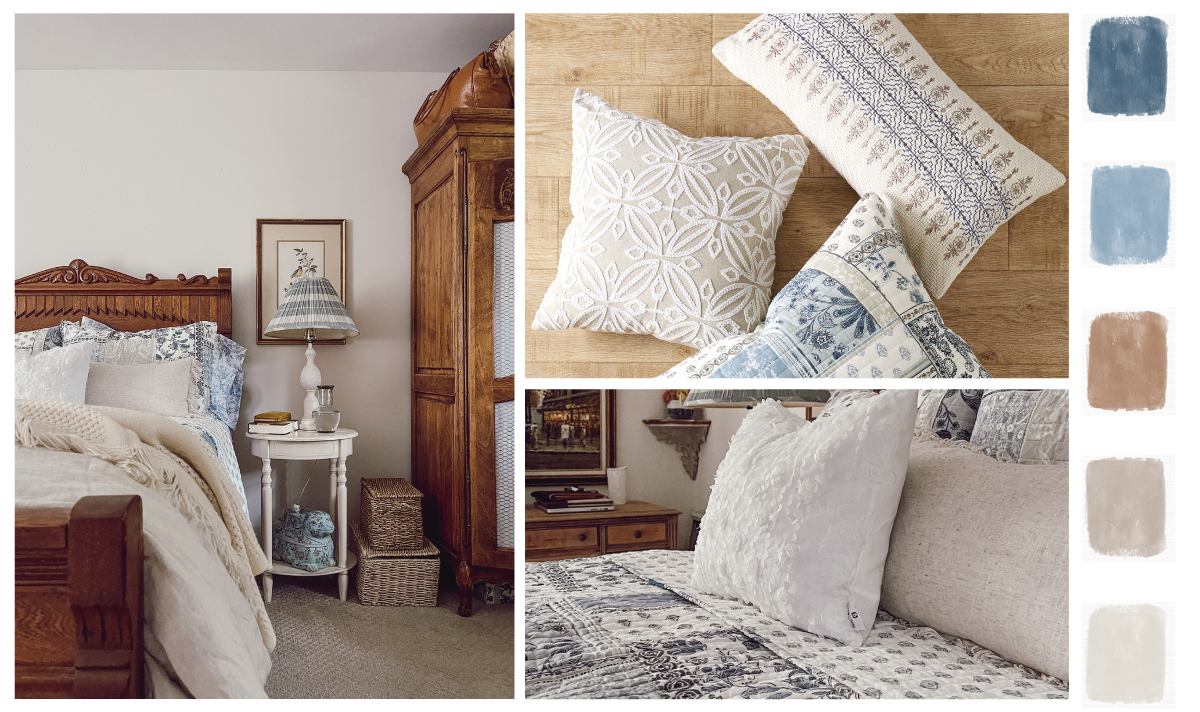 It's easy to put together a beautiful bedroom, but how do you create a space that not only looks amazing, but feels like it was tailor-made for you? A place that encapsulates and reflects who you are, what you love, and gives you a sense of home. Here are five methods to use when designing a bedroom that will help you curate cozy spaces full of personality.
"The best rooms have something to say about the people who live in them." - David Hicks, Interior decorator and designer
Find Your Color Scheme for Bedroom Harmony
First thing's first, settle on a color scheme. Having a clear vision for the colors and tones you want to include in your space will make every decision going forward so much easier. Your color scheme is going to be the factor that brings your design together and keeps things cohesive in the end.
Mix Modern & Vintage: Timeless Style with Bedding Inspiration
Combining pieces from various time periods is the key to timeless style that outlasts the ever-changing trend cycle. It's also a great way to give your space that cozy, lived-in feel. In this room, I paired an antique bed frame with the stunning Aliza quilt set by Levtex Home.
Layers, Layers, & More Layers: Elevate Bedroom Comfort with Bedding Essentials
The focal point of the bedroom is, of course, the bed. My trick for creating a bed that looks like it's straight out of a magazine is to layer patterns, colors, and textures. Create some contrast and pull it all together with your color scheme.
On this bed I layered the Aliza quilt with the Washed Linen Duvet in the color "natural" and a vintage, wool throw blanket. 
Pro Tip: Don't be afraid to leave your layers a little messy when you make your bed. A lot of those magazine-featured beds have an unkempt look that gives them an ultra-cozy feel.
Get Thrifty: Art Finds to Decorate Your Bedroom
We can't have a perfectly curated bedroom without art. Hit up thrift stores for unique and original pieces at a great price. If you're having trouble finding exactly what you want, thrift a nice frame and search for art that's in the public domain to have printed.
Be Sentimental: Infuse Your Personality into Your Bedroom Design
You can curate the most beautiful of spaces, but it won't feel like yours unless you personalize it. Incorporate yourself, your family, or things that are meaningful to you. This can take the form of framed photos, mementos from your travels, your favorite books, room themes, artwork tied to specific locations, whatever fits for you.
Creating a home that feels curated specifically for you is easier than you'd think. It may take some time to piece together the perfect collection of items for your design, but keep these tips in mind when shopping for and designing your space and you'll have a gorgeous bedroom infused with your unique style and personality.
"A room should never allow the eye to settle in one place. It should smile at you and create fantasy." - Juan Montoya, Interior Designer and Architect
FAQ
Q: How to determine the right color scheme for a bedroom design?
A: To find the perfect color scheme, consider your personal preferences and the desired ambiance. Choose colors and tones that resonate with your style and create a cohesive atmosphere in the bedroom.
Q: What's a helpful tip for making a bed that looks both stylish and cozy?
A: Layering is essential for creating a stylish yet cozy bed. Combine various patterns, colors, and textures to add depth and warmth, giving your bedroom a visually appealing and comfortable look.
Q3: How can sentimental elements be incorporated into a bedroom design?
A: Personalize the space with framed photos, cherished mementos, travel souvenirs, and meaningful items. These sentimental touches make the bedroom uniquely yours, reflecting your individual style and personality. Additionally, consider incorporating family heirlooms or artwork that holds sentimental value to complete the personalization. Personalizing your bedroom is the key to making it truly yours, and it's an excellent way to de-stress your bedroom.
Written by Mariah Hilsenbrand
References
Worcester Run Magazine by article's author, Mariah Hilsenbrand:

https://snipfeed.co/worcesterrun
David Hicks on Wikipedia: https://en.wikipedia.org/wiki/David_Hicks_(designer)
Juan Montoya on Wikipedia: https://en.wikipedia.org/wiki/Juan_Montoya_(interior_designer)