The 5 Best Luxury Christmas Bedding Sets from Levtex in 2023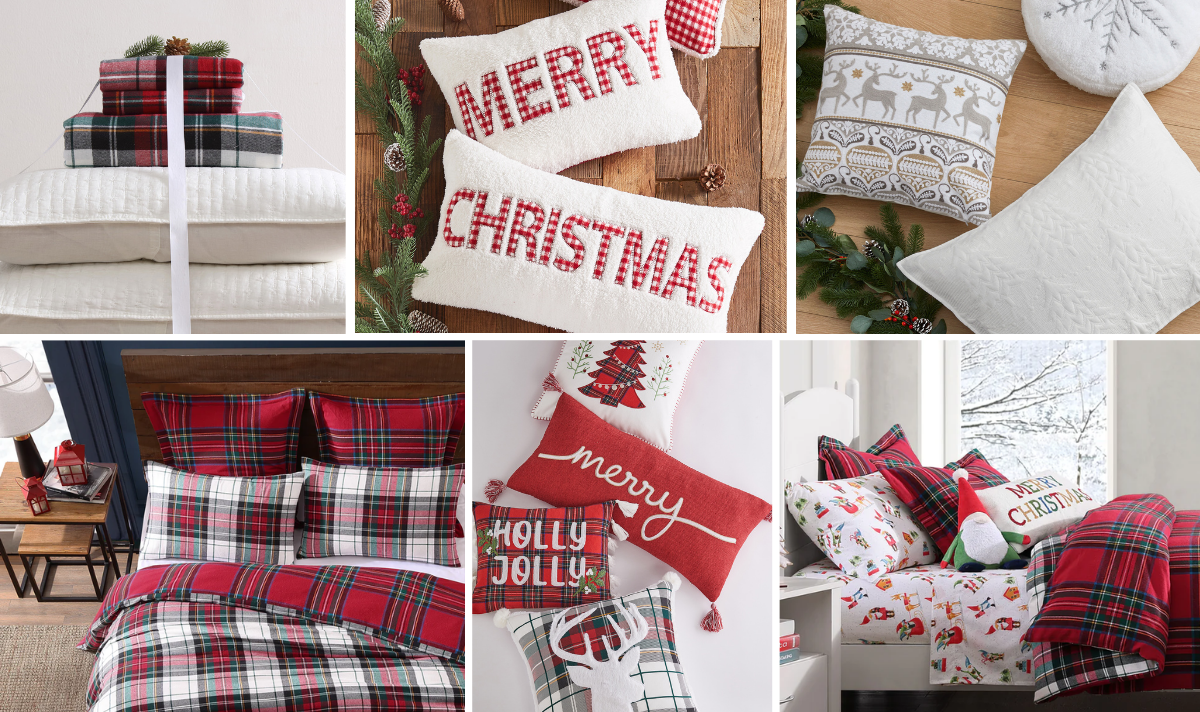 "Luxury is when it seems flawless, when you reach the right balance between all elements. Understated theatricality – that is what my luxury is all about." - Jean-Louis Deniot, Designer
The holiday season is a time for joy, celebration, and creating warm and cozy memories with your loved ones. One of the best ways to make your home feel festive and inviting is by decorating your bedroom with luxurious Christmas bedding.  Levtex offers an exquisite selection of Christmas bedding sets that can instantly elevate the holiday spirit in your home. In this article, we'll introduce you to the top five luxury Christmas bedding options from Levtex Home, helping you transform your bedroom into a winter wonderland.  Our luxury looks do not break the bank, each of these options provides an exceptional value.
Faux Fur 
Nothing says luxury and warmth like fur, and the Levtex Home Faux Fur Bedding Set is our top choice for those who want to bring a touch of opulence to their bedroom during the holiday season. This quilted coverlet, which can be purchased alongside the matching pillow shams, isl adorned with soft and luscious cruelty-free faux fur that emulates the feel of a cozy winter coat. The ivory color adds an elegant and neutral touch that can seamlessly fit into any bedroom's existing decor.
The Levtex Home Faux Fur Bedding Set is perfect for snuggling up on chilly winter nights, and the neutral color palette complements any Christmas decorations you choose to add to your room. Imagine the warm, inviting atmosphere you can create with this sumptuous bedding set, making it a delightful choice for a luxurious holiday season.
The faux fur bedding trend is a favorite for many due to its remarkable comfort and the lavish, plush texture it adds to any space. It's like enveloping yourself in a warm embrace every night, making it perfect for the cold winter months. The key to successfully decorating your bedroom with this luxurious bedding is to strike a balance. Since the faux fur exudes luxury, you might want to keep the rest of your decor more minimalistic to avoid overwhelming your space. Soft, neutral colors like ivory, gray, or taupe are excellent choices to create an elegant and inviting ambiance.
Velvet 
For those who appreciate the classic beauty of velvet, the Levtex Home Red Velvet Quilt Set is a dream come true. This set captures the essence of Christmas with its rich and festive red color. The quilt features a subtle diamond pattern that adds depth and texture to your bedding while maintaining a sense of elegance.
The Levtex Home Red Velvet Quilt Set includes a beautifully crafted quilt and matching shams, making it a fantastic choice for those who want their bedroom to exude Christmas cheer. The bold red color can serve as the perfect backdrop for your Christmas tree, ornaments, and other holiday decorations. It's the ideal way to bring the warmth and tradition of Christmas to your bedroom.  When decorating your room with a red velvet quilt set, consider complementing it with accents in gold or silver. These metallic hues add a touch of glamour and refinement to your Christmas decor.
Velvet is a timeless fabric associated with royalty. It embodies the festive spirit of Christmas, making it a popular choice for holiday bedding. If red is too traditional, think about one of the many other colors available in the Levtex Home Velvet Quilt Collection.
Cotton Flannel 
 We love the warmth and coziness of a soft, brushed cotton flannel.  If you love them like we do, Levtex Home's Spencer Plaid Flannel Bedding is sure to capture your heart. Available in both duvet and comforter sets, this bedding choice is not only the embodiment of class luxury but it is incredibly versatile and completely reversible.
The Spencer Plaid Flannel Bedding features a timeless plaid design with hues of red, green, and white. The cozy flannel material ensures that you stay warm and comfortable during the winter season. This bedding set is versatile and can easily fit into any Christmas decor theme, from rustic to traditional. It's a wonderful choice for those who appreciate the nostalgia of Christmas and want to create a welcoming atmosphere in their bedroom.
Plaid patterns have a special place in the heart of Christmas decor enthusiasts. They evoke memories of traditional holiday celebrations, making them a go-to choice for many. When incorporating plaid bedding into your bedroom, consider pairing it with other classic elements such as wood accents and evergreen foliage. A plaid throw or a few plaid decorative pillows can also be used to tie the look together.
Cotton Waffle 
The Levtex Home Peppermint Plaid Woven Cotton Waffle Bedding is another exceptional option for those who adore plaid patterns but prefer a lighter and more breathable material. The woven waffle in a large windowpane plaid is traditional but clean and contemporary. The set is available as both a duvet and a comforter.
Woven cotton waffle bedding offers a unique texture that's both comfortable and visually appealing. It's a lighter alternative to heavy flannel, making it a great choice if you live in a milder climate or prefer a cooler feel during the night. To enhance the overall look of your bedroom, you can incorporate additional peppermint-themed decorations, such as candy cane ornaments, red and white stockings, and even peppermint-scented candles to fill the air with the sweet fragrance of the holidays
Classic Quilting 
The Levtex Home O Christmas Tree White Quilt Set is the epitome of Christmas charm and elegance. This set features intricately quilted Christmas trees as the central design element, set against a crisp white backdrop. The delicate detailing of the trees add that little hint of the holidays on an otherwise classic, sophisticated white quilt.  This is holiday sophistication at its finest.
This quilt set is perfect for those who prefer a subtler and more refined approach to Christmas bedding. The white background allows you to pair it with various Christmas decorations and color schemes, making it versatile for any style. You can accentuate the Christmas tree motif with green and gold decorations and really play up the holidays, or opt for a more minimalist look by keeping your decor primarily white and silver. Incorporating string lights, ornaments, and garlands into your bedroom decor can add a festive touch without overwhelming the space.
Choosing the right bedding set can significantly impact the ambiance of your bedroom during the holiday season. Levtex Home offers a huge range of Christmas bedding sets.  We hope you like our top luxury choices for 2023, each catering to different tastes and decor styles. Whether you're looking for the opulence of faux fur, the classic charm of red velvet or plaid, or the subtlety of white with intricate quilting designs, there's a perfect choice waiting for you. Elevate your holiday season with one of these top luxury Christmas bedding sets and create a cozy and festive atmosphere that will make your home feel like a winter wonderland.
"Rawness and refinement are not opposite ends of a luxurious spectrum. They are two complementary features with which to populate a luxe environment." - Kelly Wearstler, Interior Designer
FAQ
Q: What Are the Trending Themes and Designs for Christmas Bedding in 2023?
A: In 2023, popular Christmas bedding designs include rustic Christmas, classic plaids, elegant velvet, and cozy flannel, making them a perfect choice for creating a festive atmosphere in your bedroom.
Q: How Can You Determine the Right Size for Your Christmas Bedding Set?
A: To ensure you select the ideal size for your Christmas bedding, it's crucial to measure your mattress's dimensions. Common sizes include twin, queen, and king. Opt for a size that offers a snug fit with a little overhang on the sides and at the foot of your bed.
Q: What Are the Most Popular Materials Utilized in Crafting Christmas Bedding Sets?
A: Christmas bedding in 2023 is primarily made from popular materials such as cozy flannel, luxurious velvet, soft cotton, and sumptuous faux fur. Each material provides distinct textures and insulation levels, allowing you to choose the perfect one based on your preferences and local climate.
Written by Michael Levin
References
Redefining natural beauty on Archipro: https://archipro.co.nz/article/redefining-natural-beauty-the-tile-people.
Jean-Louis Deniot on Artemest: https://artemest.com/en-us/magazine/a-list/jean-louis-deniot.