5 Creative Baby Girl Nursery Ideas and Tips to Bookmark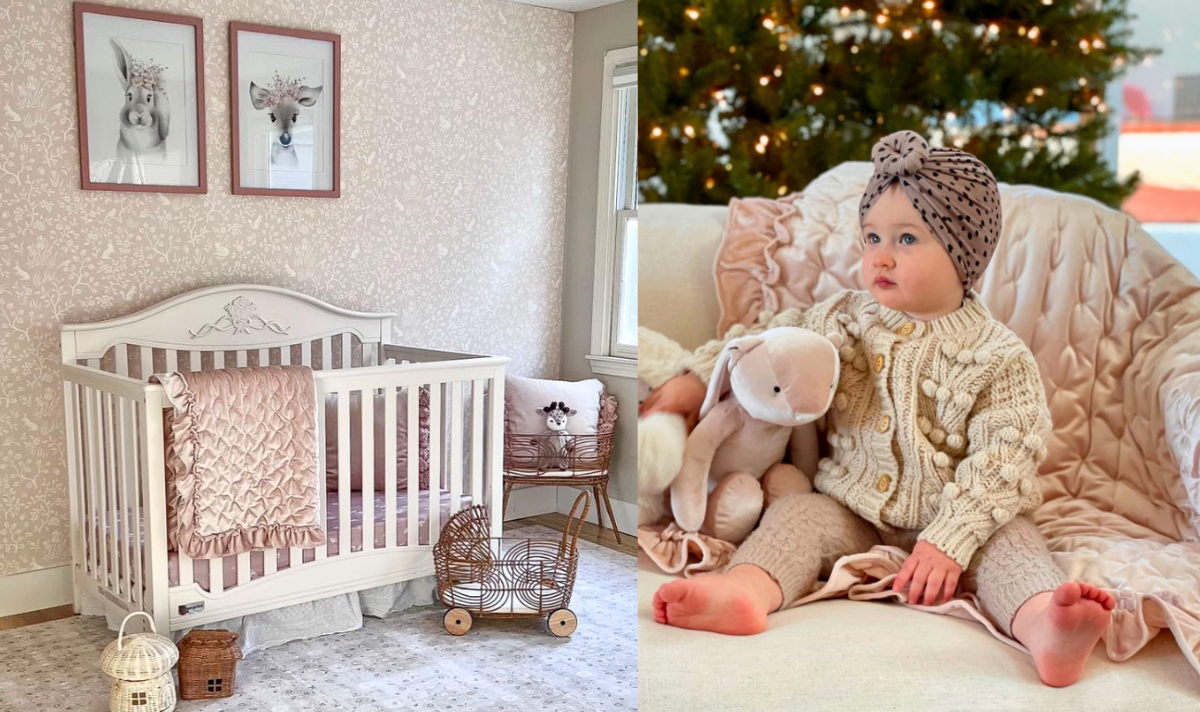 Congratulations on your baby girl! Designing a nursery for your little princess is an exciting and heartwarming experience, filled with endless possibilities. From choosing the perfect color palette to selecting adorable decor items, every decision contributes to creating a cozy and enchanting space for your baby to grow and thrive. In this blog, we'll share a treasure trove of tips, ideas, and inspiration to help you craft a dreamy haven that combines style, functionality, and a touch of magic. Whether you prefer a classic, modern, or whimsical theme, we're here to help guide you on this delightful journey, ensuring that every element reflects your love and creates a nurturing environment for your precious bundle of joy.
Soft Lighting
Overhead lighting is often harsh and way too bright. That's why I love using small fixtures like lamps and even fairy lights. Incorporating lamps, like the Levtex Baby Elise Lamp Base and Shade, will make all the difference in creating a warm and inviting sanctuary for your daughter. "Fairy lights" or "twinkle lights" are another option.  Although they do not provide a lot of ambient light, they are such a sweet feature in a little girl's nursery and create a wonderful fairytale atmosphere.  They also double as a wonderful night light - something to leave on so that the room is not too dark.  
A Touch of Pink
You might not want to fully embrace pink as a color scheme for your little girl's nursery - leaving yourself the flexibility to adjust the look of your room as your child grows and develops her own personality.  But a touch of pink in an otherwise neutral room may be just the thing when your baby girl comes home for the first time.  The use of pink bedding, for example, can give the room the soft and feminine touch you are looking for.  I love the Levtex Baby Heritage Blush Velvet Crib Bedding Set.  The use of velvet adds to the softness of the room and gives the room a classic feel.  You could also add that pop of pink by strategically draping a beautiful blanket, like the Levtex Baby Heritage Blanket, or adding a gorgeous pink decorative pillow to your rocker or glider. 
Connect With Nature  
I love the idea of bringing the outdoors in.  This idea works in so many nurseries.  Whether you have chosen something classic and neutral, like the Levtex Baby Cloud Muslin Collection, or something with a theme, like the Levtex Baby Everly Woodland Collection, a fresh plant in a beautiful pot adds dimension, texture and depth to a room.  If you are concerned that you might have your hands too full to take care of another thing, think about an artificial plant - they are so real these days!  
I also love the idea of incorporating nature in less obvious ways, like through the use of wall decals, murals or wallpaper.  Creating an accent wall that creates an outdoor scene will add depth and dimension to your nursery.  Even if you have decided to go with a neutral nursery, an interesting wallpaper that references the great outdoors can transform the room.  A great rug, like the Levtex Home Ashika Rug can also transform a space, giving it a more modern outdoor vibe.
Nothing quite says "little girl" like a beautiful bouquet of flowers. You can embrace the outdoors by incorporating flowers into your decor.  Whether you choose flowers as your central theme, as in the Levtex Baby Fiori Crib Bedding Collection, or just bring flowers in as an accent to a more classic nursery, like the use of the Levtex Baby Fiori Wall Decals in a room with the Levtex Baby Mills Waffle Crib Bedding Collection, flowers can transform the space.
Try Lilac
The fashion runways for Spring 2023 featured lilac in so many ways and we could not have been more excited.  Lilac seems like a more more reserved color than pink and has a rich softness that looks great in a nursery.  Even if your preference is to stay more neutral, adding the rich texture of the Levtex Baby Heritage Lilac Drape Panel can really give your nursery the feminine hint you have been looking for. 
Make It Personal
Your baby's name is her own.  Incorporating it into the nursery decor immediately makes the space special and quintessentially hers.  Spelling out her name in beautiful wood or acrylic letters, painted in a color to complement the color of her room, or having her name rendered in calligraphy on a beautiful canvas, can really make the room special. 
In a classic, traditional room, I love the idea of monogramming a few key items to give the room a personal touch.  A gorgeously monogrammed hooded towel or robe hanging on a gorgeous brass hook near the door is a great touch.  Or a distinctive, monogrammed pillow tossed perfectly on your glider or rocker.
Think about creating a wall of photos of her family - her parents, siblings, grandparents, godparents, cousins, aunts and uncles.  As she grows, add photos of her with some of those people and with her new friends to the wall so that it always remains fresh and interesting and keeps reflecting her personality.
We love rooms that have beautiful heirlooms or sentimental keepsakes displayed.  Add things that have meaning for you, like a blanket or quilt that was made by your grandmother, your bronzed baby shoes or your favorite childhood stuffed toy that your parents kept lovingly for you all these years.  She will love hearing the stories of those items when she grows up and , who knows, maybe she will one day put them in her own daughter's nursery and tell the stories she heard in her childhood.
Remember to make it personal.  This is a journey of love and creating the nursery that fits your baby is the beginning of that journey.
FAQ: 
Q: What are good colors to put in a girl's nursery?
A: When it comes to choosing colors for a girl's nursery, there are numerous options to consider. Here are some popular and versatile color choices that work well in girl's nurseries:
Soft Pastels: soft pastel colors such as baby pink, lavender, mint green, and light yellow are often associated with femininity. These colors create a perfect nursery environment because they are calm and soothing. 

Neutral Shades: neutral colors like ivory beige, or light gray serve as a versatile backdrop that can be easily paired with other colors and patterns. They create a timeless and elegant look, allowing other elements in the room to stand out.

Subtle Earth tones: Earthy colors like dust rose, sage green, or soft peach can add a warm and organic feel to the nursery. 
Q: At what age does a baby need a nursery?
A: Great question! Typically, babies need a nursery from the time they are born. Nurseries provide a dedicated space for the baby to sleep, play, and grow. As the baby grows older, the nursery becomes a place for more play and exploration, transitioning into the environment appropriate with their development.