Coverlet vs Quilt: What's the Difference?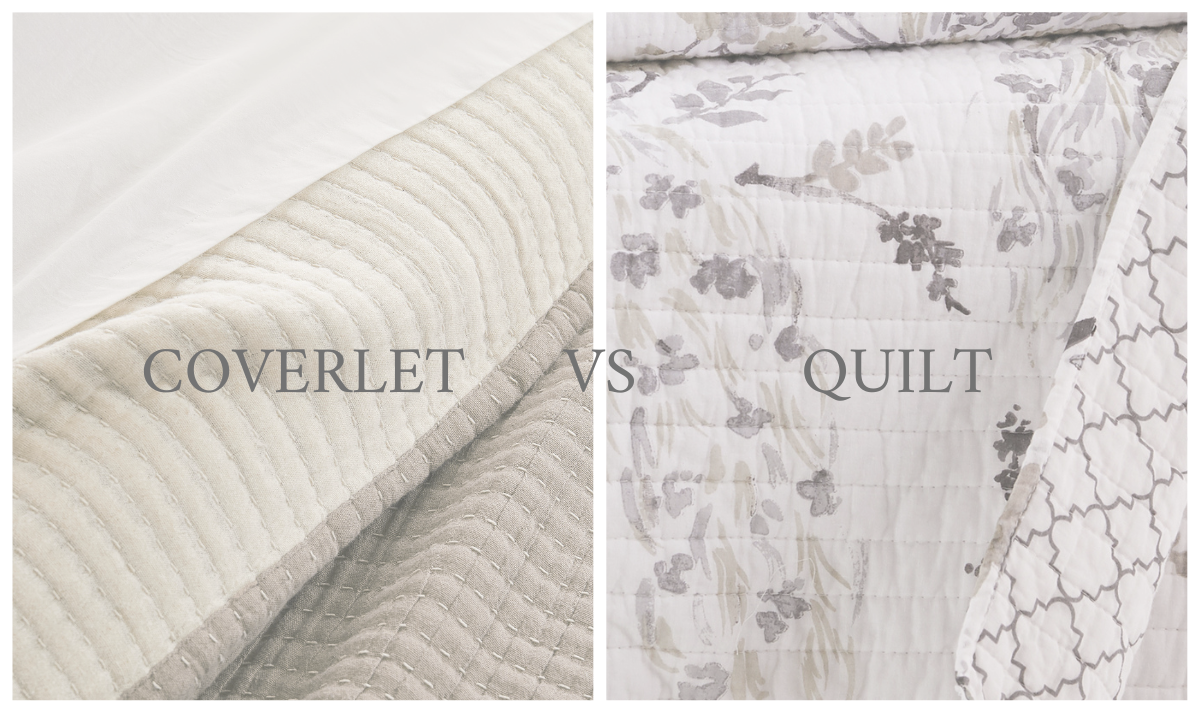 "A well-dressed bed should elicit feelings of comfort, beauty and luxury" - Megan Dufresne, designer
When it comes to bedding, the choices can be overwhelming and sometimes it is hard to tell the difference among choices. Two popular options, coverlets and quilts, can be particularly confusing and the terms are often used interchangeably.  In reality, each of these offer distinct styles and functionality. 
Coverlets: In general, a coverlet is a lightweight, decorative bed cover that typically covers the entire mattress and does not drape to the floor. They come in various materials and styles and can be used alone as a lightweight bedding option, or as a layering piece to add an additional layer of warmth to a bed.  When used as a layering piece they can add a decorative element to your bedroom.  Coverlets are often a single layer of fabric or unfilled, although there are also quilted coverlets which tend to be lighter weight than quilts.
Quilts: Quilts, by contrast, are always multi-layered bed coverings, made of a top and bottom fabric that are stitched together with a filler (often cotton but sometimes polyester). Like coverlets, they can be used as a bedding option (most often with sheets) and also can be used as a decorative layering piece with a duvet, comforter or coverlet to provide and extra layer of warmth or a decorative element to the bed. Quilts often have a more traditional, handmade feel, making them perfect for those seeking a rustic or vintage aesthetic.
In this blog, we will unravel the differences between coverlets and quilts, helping you make an informed decision and help you create the bedroom of your dreams. Let's dive into the world of bedding and discover the perfect match for your unique taste and comfort.
What is a Quilt and How Do I Style It? 
In their book Folk Art in American Life (1995), Robert Bishop and Jacqueline Atkins point out that as early as the Crusades quilting became known to Europeans as something that the Turks wore under their armor. In the cold Northern European climate, the idea took off quickly, initially in clothing and then as something you could use for bedding.  The United States has a long history of quilting, often as a way for people to reuse fabric from clothing that was worn out.  
Although there is still a strong tradition of quilting in the United States, quilts now come in various sizes, styles, and patterns, from intricately detailed collections of fabric to simpler printed fabrics - you can see the huge assortment available from Levtex Home in their Quilts Collection.  Quilts are a versatile choice for bedding and home decor. They are known for their warmth and coziness, making them especially suitable for use in colder seasons. Quilts can also be cherished heirlooms, often passed down through generations, and when hand-made, can be highly regarded for their craftsmanship and artistic value.
How to Style a Quilt
One great thing about quilts is their versatility. You have the freedom to use a quilt for a plethora of stylistic choices. Here are a few of my favorite ways to use quilts around your bedroom and home
Bedding Ensemble

Use the quilt (and matching shams) as the main covering for your bed, layered on top of your sheets.  Much like a blanket, it offers a layer of warmth without the heaviness of a duvet or a comforter.
Layering

Layer a quilt with other bedding elements like pillows, sheets, and blankets over a base layer of sheets and a comforter and duvet. Use the quilt to add some contrasting colors and textures to create a visually interesting and appealing look. For example, if you are someone who likes to decorate for the holidays, a festive Christmas-themed quilt can instantly change the look of your bedroom without requiring you to redecorate your room entirely.
Draping

When not in use, drape the quilt over a chair, sofa, or ladder for a stylish element that can quickly become functional if the weather turns a little chilly or you want to snuggle up while reading your book or watching TV.
Picnic Blanket

Take your quilt outdoors as a picnic blanket! This tip is often overlooked, but is one of my favorite uses for a quilt.  Because quilts are triple layered they offer some comfort and moisture protection.  If the ground is really wet, think about putting a waterproof layer below the quilt. 
What Is A Coverlet and How Do I Style It?
A coverlet is a lightweight, decorative bed covering used to add style and a layer of comfort to a bed. Unlike quilts or comforters, coverlets are typically thinner and do not have much padding or filling, making them ideal for use in warmer weather or as an extra layer on top of other bedding. Coverlets come in a wide range of fabrics, colors, and designs.  Like quilts they are a versatile choice for those who want to add a touch of style and comfort to their bedroom without the heaviness of traditional comforters or quilts.
How to Style a Coverlet
Styling a coverlet can enhance the overall look of your bedroom and add a layer of comfort and sophistication to your bedding. Here are some tips on how to style a coverlet effectively:
Layering

Start with a fitted sheet and flat sheet as your base layer and then use a duvet or comforter. Place your coverlet on top for a clean and crisp look. The Levtex Home Caden Cotton Muslin Coverlet

 is the perfect example of a simple coverlet that can add dimension and color to your bedroom! 
Color Coordination

Choose a coverlet that matches or contrasts with the rest of your room! If you have patterned sheets or pillowcases, choose a solid colored coverlet to create a balanced look.  If you have a simple white bed, a cozy, colored coverlet can add a layer of warmth and interest.
Extra Warmth

If you live in a super cold climate or just love to be warm, add a simple coverlet under or on top of your quilt or duvet for extra warmth. 
"Coverlets differ from quilts because coverlets are usually used as a layer, where quilts can be layered or stand alone on a bed" - Monica Bhargava, designer
Key Differences: Quilt vs Coverlet
The choice between using a quilt and a coverlet depends on your personal preferences, the season, and the overall look you want to achieve in your bedroom. Here are some guidelines to help you decide when to use a quilt or a coverlet:
| | | |
| --- | --- | --- |
| | Coverlet | Quilt |
| Material | Single-layer fabric | Three layers, thicker |
| Care | Easy machine wash | Best to hand wash for longevity |
| Function | Better paired with quilt | Main function is to keep you warm |
When to Use a Quilt
Colder Weather:

Quilts are generally warmer than coverlets because they have multiple layers and often contain some type of insulation or filling. Therefore, they are a better choice for colder seasons or when you need extra warmth on your bed.
Patterning and Design:

Quilts typically are patterned and highly designed, making them ideal for adding an extra decorative touch to the bedroom.
When to Use a Coverlet
Warmer Weather:

Coverlets are thinner and lighter, making them a great choice for warmer seasons or regions with mild climates. They provide a touch of style and comfort without adding too much warmth.
Minimalistic and Modern Look:

Coverlets often have a simpler and more  contemporary appearance. They work well in modern or minimalist bedroom designs.
Layering with Other Bedding:

If you prefer a layered bedding look, you can use a coverlet as the top layer for decorative purposes, especially when you want to showcase other elements like patterned sheets or a duvet underneath
Ultimately, the choice between a quilt and a coverlet depends on your personal preferences, the season, and the style you desire for your bedroom.  And remember sometimes the right choice is to choose both. Quilts and coverlets layer wonderfully with each other!
FAQ
Can a Coverlet Be Used Alone?

Yes, a coverlet can absolutely be used alone! Coverlets are designed to serve as standalone bedding, particularly in warmer weather or climates. They are thinner and lighter than quilts and don't have the same level of insulation.
Is a Coverlet Heavier Than a Quilt?

No, a coverlet is generally not heavier than a quilt. In fact, coverlets are lighter and thinner compared to quilts. Quilts are known for their multiple layers and added insulation, which makes them thicker and warmer. On the other hand, coverlets are designed to be lightweight and provide a touch of style and comfort without the extra weight, making them ideal for warmer seasons or regions with mild climates.
What Drives The Cost Difference Between Coverlets and Quilts?

The cost difference between coverlets and quilts can vary widely depending on factors such as brand, material, size, and design. Look for factors like the kind of fabric (linen, silk and cashmere are more expensive than cotton which is pricier than polyester/midrofiber), the level of handmade detailing and amount of stitching, all of which affect the price of both coverlets and quilts.
Written by Joanne Levin
References

1. Dressing a Bed for Comfort and a Luxurious Look on Mansion Global: https://www.mansionglobal.com/articles/dressing-a-bed-for-comfort-and-a-luxurious-look-01638359425

2. What Exactly Is a Coverlet? on House Beautiful: https://www.housebeautiful.com/design-inspiration/a32705949/what-is-a-coverlet/