12 Cozy Christmas Decorating Ideas with Levtex Home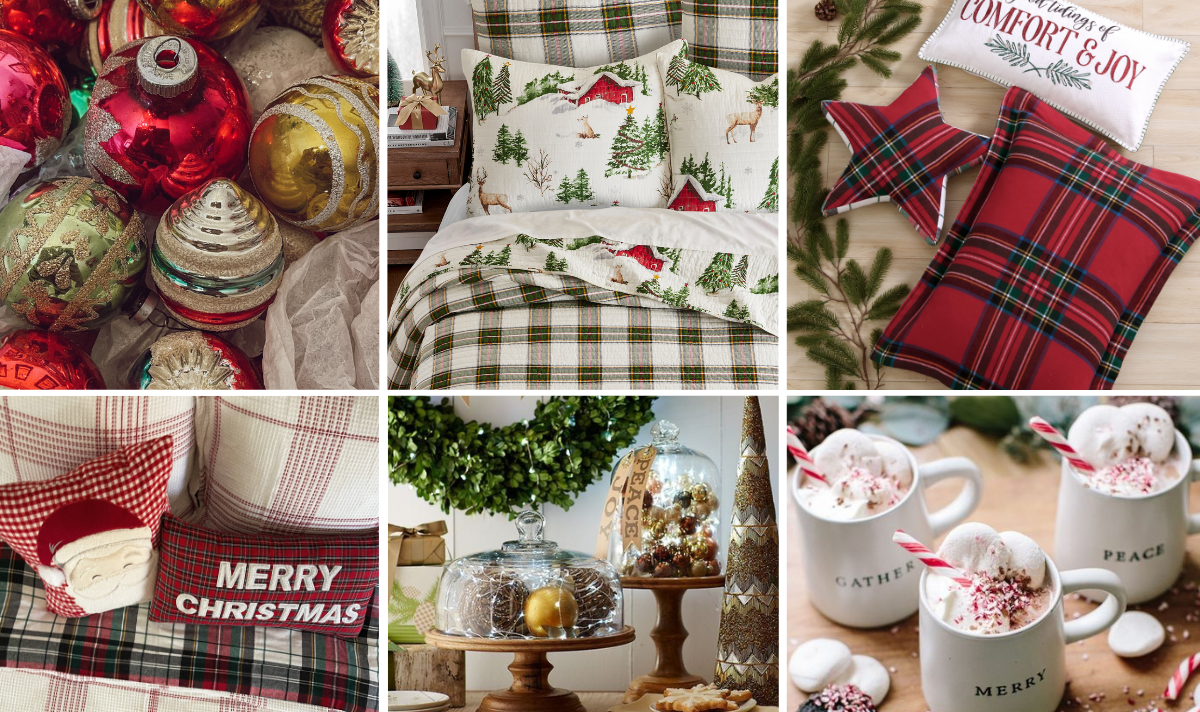 Classic Christmas is everything the holidays should be — cozy, warm, inviting, and comforting." - Lisa Henderson, decorator
Nothing says holiday cheer like decorating your home for Christmas. It's the perfect way to create a festive atmosphere and get into the holiday mood. This is also a time of year when many of us welcome guests into our homes and we want to create cozy and inviting spaces to spend time with our loved ones. 
Levtex Home has all the holiday inspiration you'll need this Christmas season to create a cozy and welcoming home inside and out! Whatever your Christmas theme, we're here to help deck your halls and keep your home feeling merry, bright, and oh-so cozy. 
Here are 12 cozy Christmas decorating ideas from Levtex Home:
A Festive Front Door
Welcome guests and spread holiday cheer with your neighbors by decorating your front door. Add a simple wreath or go all out with Christmas decorations and lights. Enhance the festive vibe with twinkling lights and vibrant ornaments for a warm seasonal welcome. Don't forget to add a cute doormat! 
Rugs & Doormats
Make every room festive with seasonal rugs. Use a runner to spruce up a hallway or add a cute, Christmas rug to your kitchen or bathroom. Incorporate doormats with holiday-inspired designs or patterns at the entrance, instantly infusing the space with festive cheer and warmth. These decorative elements not only add charm but also serve as a welcoming touch for your holiday-themed home.
Pick a Christmas Theme
"Streamline the decorating process by committing yourself to a color palette. Whether it's white on white or traditional red and green, decide on a clear direction and ensure any newly purchased items coordinate." - Marie Flanigan, interior designer
There are so many beautiful holiday styles to choose from: nostalgic and vintage, classic red and green, something whimsical and fun, or an eclectically mismatched explosion of Christmas. Decide on the right theme for you and choose coordinating colors to go with it.
Create A Christmas Retreat
Create a cozy retreat for yourself where you can relax after the hustle and bustle of the holiday season. Change up your bedding to something festive and don't forget to add a set of flannel sheets to stay extra comfy and warm. Elevate the ambiance with decorative throws, holiday-themed duvet/comforter set, and soft blankets to envelop yourself in warmth and comfort during the festive period.
Christmas Ornaments
Ornaments aren't just for the tree, use them all around your home! Set them in a decorative bowl or fill a big, glass jar. String them up as a garland, or even add them to a centerpiece on your Christmas table. Incorporate these ornaments creatively into your festive decorations for a delightful holiday touch throughout your living space.
Make a Coffee or Cocoa Bar 
For coziness on the go, set up a little coffee or cocoa station with all your favorite holiday flavors and toppings. Don't forget the adorable Christmas mugs! This inviting setup will not only warm up your home but also make it a welcoming space for family and friends to indulge in festive treats during the holidays.
When in Doubt, Add Plaid
If you're ever unsure of how to decorate a space for Christmas, add something plaid or check. It can be as bold as plaid bedding or as simple as a plaid bow. Consider incorporating plaid patterns in small accents like throw pillows for a touch of cozy holiday spirit throughout your home. The best part is, that plaid is a winter classic and will look great even after the holidays! 
Don't Forget Your Furry Friends
Pets are a big part of the family. Make sure they feel included in the holidays by giving them their own special spot to curl up where they can be close to the family and all the Christmas festivities.  Create a snug corner with a cozy pet bed adorned with festive colors, allowing your furry companions to bask in the seasonal warmth beside the family's holiday activities.
Mix Patterns When Layering 
Pattern mixing and layering is the key to any cozy space. The best part about Christmas decor is that you don't have to take it too seriously. Incorporate a blend of plaid, floral, or bohemian patterns, letting your imagination run wild to infuse your space with a lively and eclectic touch, making your decorations stand out vibrantly throughout the holiday season. Have some fun and go a little crazy with the patterns and colors! 
Bring the Outdoors In
Incorporate seasonal elements from nature in your decor such as holly, pine, poinsettias, deer, birds, or other woodland creatures. This is another style that will look good all winter long. Incorporating these natural elements not only brings a winter wonderland indoors but also adds a touch of rustic charm to your festive décor.
Pretty Pillows
Pillows are the easiest way to change the look of a space and Christmas is the best time to have a little fun with your home decor. Use pillows to show off your personality, tie into your Christmas theme, and bring comfort and joy to your home. Don't forget to add a touch of elegance by incorporating velvet or embroidered pillows to enhance the festive ambiance.
A Cozy Christmas Tree
Add a pop of color and extra coziness to your Christmas tree by gathering a throw blanket around its base as a tree skirt. If you have a basket or tree collar, stuff the blanket inside and let it stick out the top. T his simple addition will instantly transform your tree into a cozy centerpiece that reflects the 2023 trend of incorporating natural textures and homey accents into Christmas decor.
Additional Ways to Maintain a Cozy Atmosphere All Season Long
There are more ways than just Christmas trees and Santa pillows to create and maintain a cozy atmosphere all season long. Here are a few additional tips to preserve that Christmas feeling: 
Engage the Senses
Fill your home with a holiday scent like Christmas tree, cinnamon, Christmas cookie, etc to create a home that is instantly inviting the moment you step inside. Incorporate aromatic candles or diffusers with seasonal scents or mulled spices to evoke a warm and inviting ambiance.
Create Ambiance
Find or create a playlist of your favorite Christmas music to play in the background whenever you want. Enhance the festive feel by dimming the lights and adding flickering candlelight to create a cozy and magical atmosphere throughout your home.
Merry & Bright
Incorporate string lights, fairy lights, and candles wherever and whenever you can for that merry and bright feeling. Include natural colors like warm white, amber, and gold into your lighting scheme. These warm tones create a cozy and inviting atmosphere, reflecting the latest trend of embracing natural elements in Christmas decor.
Christmas vs Winter
It's great to play around with decor that's specifically Christmas, but also think about what pieces can double or be altered to function as winter decor. If you go with decor that's more neutral or timeless, you can keep it out around all year if you want! 
Christmas decorating is a key part of the holiday season and a perfect way to invite loved ones into our homes and make them feel welcome. A cozy and festive atmosphere is essential to the Christmas season and Levtex Home has everything you need to create a Christmas-ready home! Get creative, find your Christmas style, and create cozy spaces and memories. 
Thanks for visiting and have a very merry Christmas!   
FAQ
How to incorporate Christmas vibes into my bedroom with festive bedding?
To begin, consider adding holiday-themed throw pillows and blankets in seasonal colors to your bedding ensemble for an instant Christmassy touch. In addition, swap your regular sheets for ones featuring festive patterns like snowflakes, reindeer, or traditional holiday motifs. Opting for a Christmas-themed quilt or duvet cover can serve as a focal point in your bedroom, radiating holiday cheer throughout the space. To enhance the cozy atmosphere, layer your bedding with different textures such as faux fur or knitted blankets, creating an inviting and warm environment. By incorporating these festive bedding elements, you'll effortlessly transform your bedroom into a cozy holiday retreat, perfect for embracing the spirit of the season.
How do I select color schemes and themes for my holiday decor?
Think about what the holidays mean to you and what feeling you want to reflect in your home. Colorful and festive? Traditional and timeless? Neutral and nature-inspired? Go with what invokes the feelings you want to experience this Christmas. 
What other Levtex Home collections are worth checking out for more subtle holiday bedding styles?
If you want something that can easily extend past the holiday season while still feeling festive, focus on color scheme over patterns. A solid, neutral duvet cover or a quilt with a simple striped  or floral design can easily be paired with pops of traditional Christmas colors or Christmas accents and then be restyled and reused after the holidays.
Written by Mariah Hilsenbrand
References:

1. 90+ designer-approved Christmas decor ideas on Elle Decor - https://www.elledecor.com/design-decorate/interior-designers/advice/g2833/christmas-decorating-ideas/

2. The Top Holiday Decorating Trends For 2023, According To Designers on Southern Living - https://www.southernliving.com/holiday-decorating-trends-for-2023-8363360