Creative Bedding Ideas: Bedding Inspo for Your Room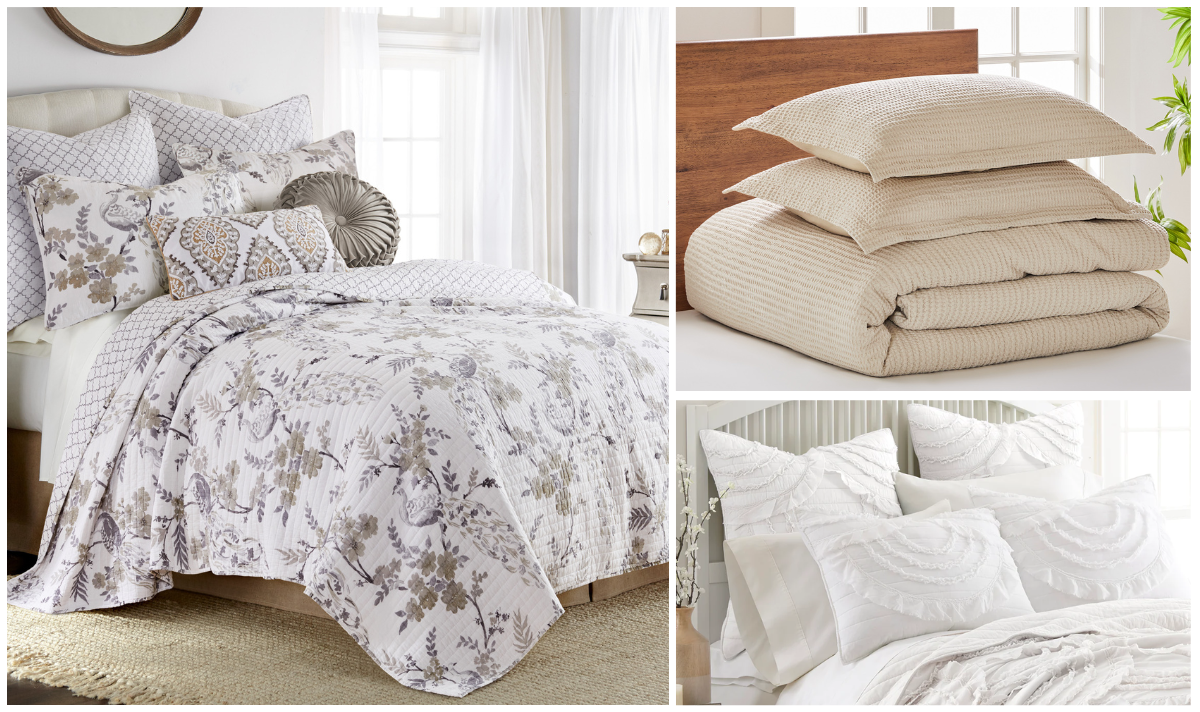 The bed linen, quilts, blankets and eiderdowns you choose make a huge difference to the room, how it looks and how inviting it is to you and/or your guests. - Rita Konig, Interior Designer
Welcome to our dreamy world of bedding bliss! Whether you're nestled in a cozy nook or stretching out in a spacious haven, we've got the perfect guide for you. In this blog, we're diving deep into the art of crafting your ideal bedroom, with a special focus on bedding ideas that will transform your sleep space into a sanctuary of comfort and style.
No matter the size of your bedroom, we're here to inspire and assist in your journey to create the perfect bedding ensemble. But that's not all! We'll be sharing a plethora of tips and tricks dedicated exclusively to bedding – from selecting the perfect pillow arrangements to finding the ideal duvet, comforter or quilt to suit your preferences.
So, get ready to dive into a treasure trove of bedding inspiration and discover how to turn your bedroom into a dreamy escape that not only looks amazing but also feels like a true haven of relaxation. Let's make your bedding dreams come true, big or small, and ensure that every night's sleep is a luxurious experience.
If you are looking for more general bedroom ideas, check out our How To Decorate A Bedroom blog.
Bedding Idea #1: Create Boho Chic Through Clever Layering, Furniture and Pillows
If you want your bed to be the main focus of your bedroom, choosing a bright pattern might be the right choice for you!  
We love the idea of dressing up a neutral room with fun boho elements.  Not only does it create an immediate sense of fun but, if you get tired of it, its easy to layer in a different look and move your room in another direction!
We began by setting a comfortable, chic base layer of crisp white linen.  In this case, the Levtex Home White Washed Linen Duvet Cover and matching Euro Shams.  We added a fun wrought iron headboard in white and layered an earthy sisal rug on the floor.  (If you want to learn more about linen bedding, you can check out our blog on Linen vs Cotton Bedding.)
We then layered in the Levtex Home Rhapsody Quilt Set. It is a boho paisley-inspired bedding set that's a kaleidoscope of rich, vibrant colors. Each piece is a work of art, featuring intricate patterns and whimsical motifs that dance across your bed, creating an atmosphere of free-spirited charm. With its lush blend of warm reds, deep blues, and earthy tones, this bedding set immediately added an eclectic, bohemian touch to the bedroom!
A final layer of plants, oversized white lamps, some books, a green glass vase and some fun, bohemian pillows and the room became a bohemian sanctuary.
Bedding Idea #2: Neutral - More Than Just White - Dress Your Bedroom Simply Or With A Little Pattern
If you are looking for a more minimalist bedroom, neutral bedding will complement that look perfectly. Incorporating textured bedding, like a simple waffle, can create some depth and warmth while keeping your bedroom cohesive and still prioritizing comfort. To keep things simple, I love the look of the Levtex Home Taupe Cloud Waffle Duvet Cover. It is warm, classic, textured and contemporary.  
If you want to keep things in a neutral palette but want a little bit of fun, you can layer your bed with a gorgeous neutral printed quilt like the Levtex Home Pisa Quilt.  Add in a rich, cocoa velvet pillow and your neutral room still keeps its calm, clean feel but now with a little extra pattern and warmth.
Bedding Idea #3: Add Texture, Trim and Some Decorative Pillows
I am a firm believer that a little bit of texture or trim can really elevate the look of your bedding and create a little bit of a statement.  Whether you opt for some subtle texture, like the woven jacquard dimension of the Levtex Home Santander Duvet Set or the excitement and drama of the Levtex Home Abruzzi Velvet Quilt Set, the texture really sets the bedding apart.
Picking something as dramatic as the Levtex Home Allie Quilt Set, with its ruffled texture, makes for a very dramatic statement.  We took a classic, neutral bedroom, put in a base layer of natural linen bedding and then layered in the Allie quilt set to transform the room with its vibrant texture.  A sprinking of complementary decorative pillows completed the transformation of the room from simple to sensational.
Whether you're drawn to the serene minimalism of crisp whites or the vibrant eclecticism of boho paisley, remember that your bedding choices and bedroom decor should ultimately cater to your preferences and lifestyle. So, embrace the creative process, experiment with textures and colors, and let your imagination run wild as you craft a sleep environment that's not just beautiful but truly yours.
Here are a few other blogs to help you create your perfect bedroom!
DIYer and thrifter extraordinaire, Mariah Hilsenbrand (@worcester.run), wrote this amazing blog highlighting 5 ideas for creating a curated bedroom
Influencer and makeover expert, Tammy Groethe (@vintagewhitefarmhouse) gives some excellent advice in this blog on how to destress your bedroom
With the right bedding, a dash of creativity, and a touch of personal flair, your bed can become the centerpiece of your bedroom, inviting you to unwind, dream, and recharge in a space that's as stylish as it is comforting. Choose from one of the many options at Levtex Home when making your bedding choices!
"I feel that bedding overall should be simple and classic with a pop of a wow factor. For our wow factor we either custom make euro shams or a large lumbar pillow out of a patterned fabric that compliments the design." - Ellen Kavanaugh, Interior Designer
FAQ
Q: Can you provide tips for mixing and matching bedding patterns and textures in my bedroom?
A: When it comes to mixing and matching bedding patterns and textures in your bedroom, consider a common color scheme to tie the elements together. Experiment with various patterns, such as stripes, florals, or geometric designs, on your bedding sets. Vary the scale of patterns (small, medium, and large) to create visual interest without overwhelming the room. You can also use throw pillows and throw blankets with complementary patterns to add depth to your bedding idea.
Q: Can you recommend bedding ideas for specific seasons or themes (e.g., summer, winter, holidays)?
A: For specific seasons or themes, consider light and breathable materials like linen or cotton for summer, and cozy flannel or velvet for winter. Incorporate seasonal colors and motifs for a festive touch. You might want to check out our holiday-themed bedding ideas for a touch of seasonal decor.
Q: How can I create a cozy and inviting bed for guests in my bedroom?
A: To de-stress your bedroom and create a cozy and inviting bed for guests, start with high-quality bedding sets, including a comfortable comforter and soft linen. Add extra throw blankets and throw pillows for extra comfort and style, exploring various bedroom ideas. Consider incorporating a color scheme that complements your bedroom design. You might also want to explore room themes and add designer bedroom furniture, such as throw rugs, window curtains, or outdoor throw pillows, to enhance the overall decor. It's all about decorating your house to make your guests feel at home.
Written by Joanne Levin
References

"89 bedroom ideas from the world's best interior designers" on House & Garden UK: https://www.houseandgarden.co.uk/gallery/bedroom-ideas
"8 interior designers share their go-to bedding brands for projects – and themselves" on Homes & Gardens: https://www.homesandgardens.com/shopping/favorite-bedding-of-interior-designers