How to Make Your Bed Like a Pro | A Quick Guide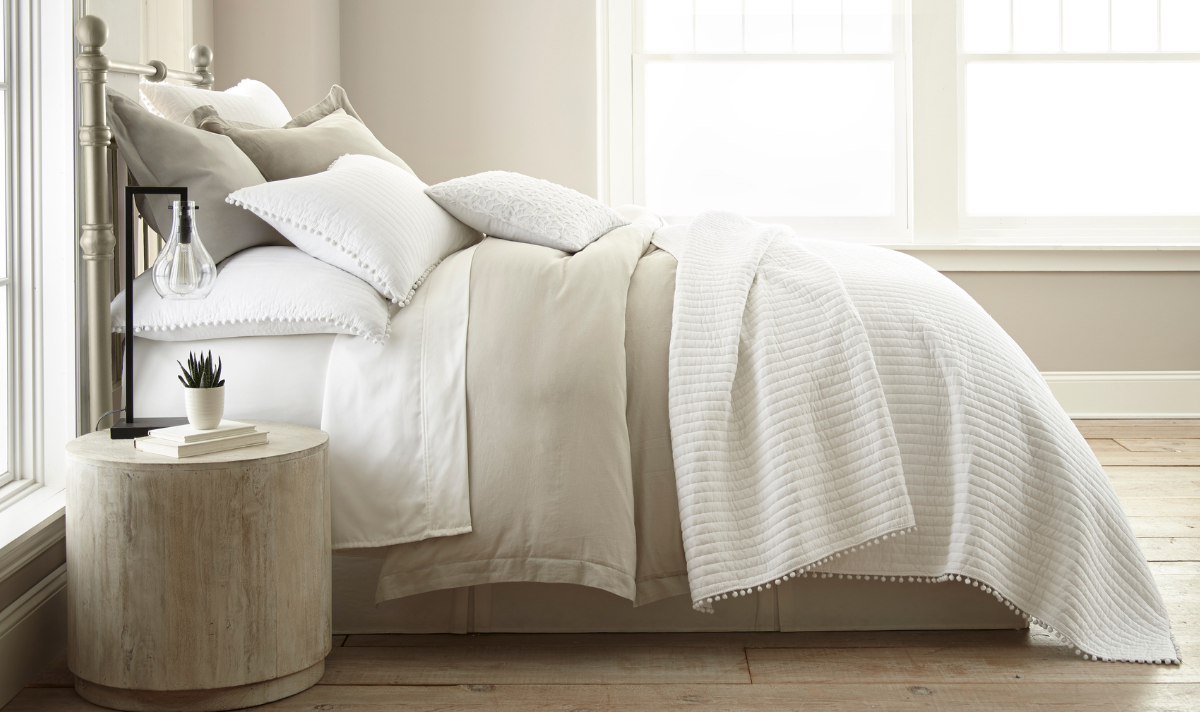 "We put a lot of focus and energy into the design of our beds, not only because it is always the focal point of every bedroom, but also because we all spend so much time in them."

—

 Claire Ratliff, designer
Your bed is more than just a place to sleep — it's the focal point of your bedroom and a safe space. In this blog, I'll share my techniques, tips, and tricks to transform your bed into a luxurious haven that welcomes you with open arms at the end of a long day. From arranging pillows and sheets to choosing cozy blankets and adding those finishing touches, this blog will provide you with a step-by-step process to create your dream bed. 
Layers
Like a good haircut, a bed is all about layers. The first 5 are pretty standard, so I'll list them out in order. 
Bed Skirt
The purpose of a bed skirt, also known as a dust ruffle, is to provide a decorative and functional covering for the box spring or the area beneath the mattress. Depending on the aesthetics of the room, there are many different options for a bed skirt, they can be tailored or, like the name suggests, flouncy and ruffled. They are an important piece of your bedroom decor because they hide the unsightly pieces of a bed.  You do not need a bed skirt if you have a platform bed. If you're looking for something neutral and simple, I recommend the Levtex Home Faux Linen Dust Ruffle. It is tailored and has a great texture and looks way more elevated than its amazing price point. 
​​To put on a bed skirt, first, position the skirt around the sides of the box spring or mattress foundation, ensuring that the skirt hangs evenly and reaches the floor on all sides. Then, tuck the top edge of the bed skirt between the mattress and box spring or secure it with fasteners or pins so that it keeps from slipping, adjusting as needed for a smooth and tailored look.  Make sure you pick a dust ruffle that is long enough to cover the space between the bottom of your mattress and the floor.
Dressing the Mattress
I assume you have picked a mattress you love and that is comfortable for you to sleep on.  Remember, rotating your mattress often is an important part of making it last a long time.  First, make sure you have a good mattress cover — it provides a layer between your fitted sheet and your mattress.  If your mattress does not have a pillow top, you can choose a mattress cover that incorporates its own pillow top to add a soft, cozy layer above your mattress.  
"I like to start with a really nice mattress pad that gives you a little padding underneath the sheet. It doesn't get too hot and has just the right amount of volume."

—

 Chad Dorsey, interior designer
Fitted Sheet
The purpose of a fitted sheet is twofold. One is to protect and preserve the mattress by creating a separation between you and the mattress, and the other is for comfort and aesthetic. Nothing feels better than sleeping on a  nice, clean fitted sheet. A fitted sheet should have a good quality elastic hemmed into the perimeter to best hold itself tight to the mattress. Make sure you pick a fitted sheet that has a gusset that fits your mattress.  There is nothing more annoying than a fitted sheet that does not hug the mattress and becomes loose and full of folds or a fitted sheet that is too small for a mattress and keeps popping off the ends!  
To put on a fitted sheet, start by aligning the elasticized corners of the sheet with the corresponding corners of the mattress. Then, stretch the remaining sides of the sheet over the mattress, smoothing out any wrinkles or creases for a snug and secure fit. 
Flat Sheet
A flat sheet, or top sheet, offers a layer between you and the comforter, quilt or blanket. Often the same material as the fitted sheet, the flat sheet can serve as a lighter alternative to a full on blanket or duvet during the warmer nights and offer a bit more coziness under the duvet during the colder ones. Levtex offers great options in a gorgeous 300 thread count cotton sateen or a sophisticated washed linen - both available in multiple colors.
To put on a flat sheet, lay it evenly on top of the mattress, aligning the sheet's top edge with the head of the bed, and tuck the sides and foot of the sheet securely under the mattress for a neat and tidy appearance.
"You always put on the flat sheet with the pattern facing down on the mattress so when you fold it back with your next piece of bedding, you can see the print."

—

 John Robshaw, textile designer
Pillow Cases
The final standard pieces are your pillow cases.  These are very often included in your sheet set.  Make sure you are buying the right inners for your pillow cases, or the right pillow cases for your pillow inners.  Most beds take standard pillow inners but king size beds often look better with king size pillows which are about 10" longer than a standard pillow.  Make sure to check your sheet set to see what size pillowcases are included, you don't want to get the wrong ones.
The next parts of the bed are really up to your own comfort and creativity. Honestly, these are the steps that really make the bed and make your bedroom. I'll list my favorite options below.  
Duvet
Comforter or Quilt: this is the cozy part of your bed. All of these are great options and serve different purposes. A duvet is typically constructed with two layers of fabric sewn together, enclosing a filling material such as down feathers, synthetic fibers, or a combination of both. A duvet cover encases the duvet and serves as the aesthetic part of the duvet. A duvet cover is easy to remove, lightweight and simple to wash. Your duvet inner does not need to be washed nearly as often as your duvet cover.
A comforter consists of a cover permanently affixed to an inner - very often a lofty, synthetic inner.  It is a warm and cozy alternative even if it is a little more cumbersome to wash and dry (just because of its size)..
A quilt consists of three layers: a top decorative layer, a middle layer of batting (insulation), and a bottom layer of fabric. These layers are quilted together with stitching in a decorative pattern. Quilts are often a nice, lightweight option especially in the warmer months.
But the pro tip is this - don't pick just one.  If you are like me, you want options.  I have a duvet cover with a relatively lightweight duvet inner as my primary cover.  I particularly love the Levtex Home Washed Linen Duvet Covers.  They come in many colors.  I then layer my bed with a quilt.  At the moment I really love the Ophelia Blush Quilt Set.  This really gives the bed a special look and gives me options at night.  On very warm nights I can pull the lightweight quilt up over me and, if I am a little cold, snuggle under the duvet.  On those really cold nights, the combination of the two is perfect.
To put a duvet cover on a duvet, start by turning the duvet cover inside out and laying it flat on the bed. Then, place the duvet on top of the cover, aligning the corners, and secure them together with the provided ties or buttons. Finally, flip the duvet cover right side out, give it a shake to distribute the filling evenly, and close the opening with the buttons or zipper.
We started with standard pillows when building the basics of the bed but now you can really play with layers.  Our quilt sets include pillow shams that let you tie the decorative part of your quilt together.  Have 4 pillows on a queen or king bed will make the bed look and feel like it was styled for a magazine.  Think about euro pillows - those wonderful large square pillows that sit behind your standard pillows for extra support and yet another chance to layer!
Finally, think about adding a throw blanket: it's a great aesthetic touch to add dimension and a bit of warmth. I prefer to fold my throw blanket into thirds and drape it horizontally over the foot of my bed or on the cozy chair in the corner of my room, tying the whole room together.
Enjoy styling your bed like a pro!
FAQ 
How often should I change my sheets?
I get this question a lot. Some people say every 4 days, while others are fine with once every two weeks. For me, it is all about my own body. Factor in how much you sweat, if you are a morning or nighttime, and how often you wash your pajamas. I choose to change my sheets once a week so I choose machine washable and durable sheets. 
How often should I wash my pillow cases?
This one depends on a few things. For a euro, sham, or throw pillow, I really only wash those on a rare occasion, when they really look like they need a deep clean. I never sleep with them and keep them on my sofa at night, so they don't really get dirty. My standard pillow cases are washed once a week. This might look a bit different for acne prone skin- you might want to wash the sheets more often, ensuring hygiene and cleanliness. 
How often should I wash my duvet cover or quilt?
I follow the same rule for my quilt that I do for my sheets- once a week. 
What are the additional layering options for a bed?
Consider layering your bed with decorative pillow shams, euro pillows, and throw blankets to add depth and style to your bedroom setup. Euro pillows, placed behind standard pillows, offer extra support and a chance to incorporate more layers for a magazine-worthy look.
References
"How to Make A Bed Like An Interior Designer" on Architectural Digest: https://www.architecturaldigest.com/gallery/how-to-make-a-bed-interior-designer
"How to Make a Bed, According to Premier Textile Designer John Robshaw" on House Beautiful: https://www.housebeautiful.com/lifestyle/organizing-tips/a42733521/how-to-make-a-bed
"There's an Art to Making Your Bed" on The New York Times: https://www.nytimes.com/2021/04/27/realestate/theres-an-art-to-making-your-bed.html